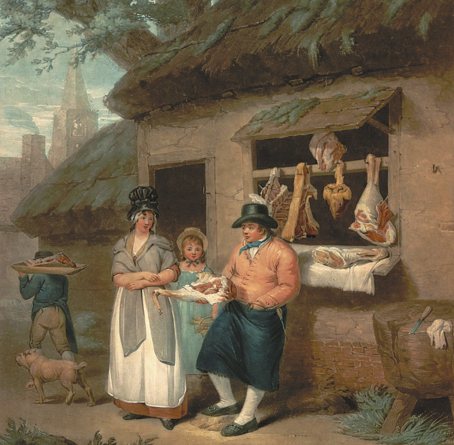 The Country Butcher's Shop, by James Ward (1769-1855). [Photo provided to China Daily]
An exhibition in Beijing of British prints from the 18th and 19th centuries features works by several artists. Lin Qi reports.
The year of 1793 saw the first British diplomatic mission to China led by George Macartney (1737-1806), seeking to open trade routes with the Middle Kingdom.
Among his delegation known as the Macartney embassy, there was an artist named William Alexander, then 26, who would record the events through drawings and paintings.
It is said that Alexander produced more than 2,000 sketches and watercolors of the views he saw during the voyage. He reproduced some of them as etchings after his return to London.