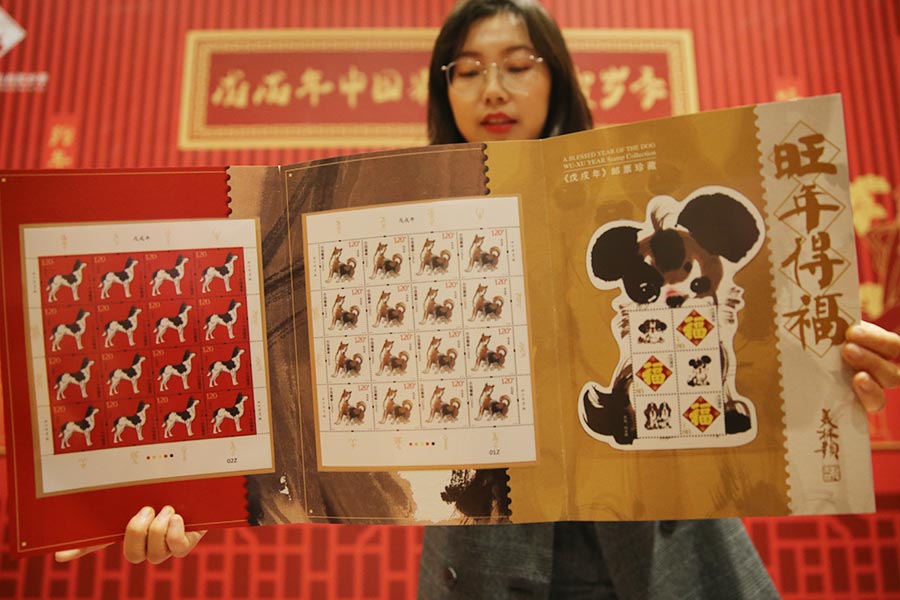 [Photo by Jiang Dong/China Daily]
China Post will issue a set of two stamps celebrating the upcoming Chinese Year of the Dog on Jan 5. Each stamp will bear a face price of 1.2 yuan (18 US cents) and are due to be released nationwide.
One stamp shows a male dog, while the other depicts a female with a puppy.
The stamps have been designed by Zhou Lingzhao, a retired professor from Beijing's Central Academy of Fine Arts. He also designed the Year of the Dog stamps that were issued in 1982.
Zhou was the chief painter of the first portrait of the late chairman Mao Zedong, which was hung on Tian'anmen Gate Tower in 1949.
China Post will also release several collectible albums featuring the new stamps, as well as drawings and photos of priceless artifacts showing the favored status of dogs in Chinese cultural tradition.
The company will also launch a commemorative set of gold and silver leaf "red envelopes" etched with the exquisite patterns featured on the new stamps. Collectors can purchase them through the online retailer JD.