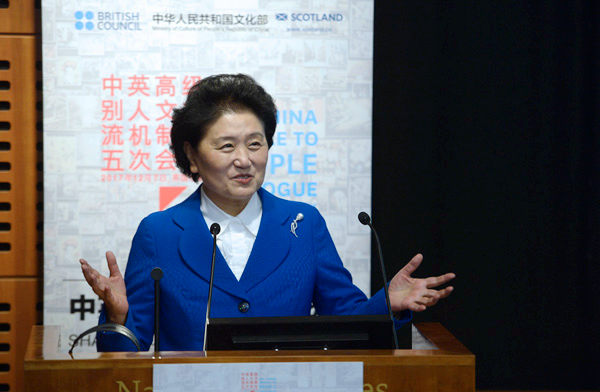 Chinese Vice-Premier Liu Yandong speaks at forum Shaping Cultural Landscapes in Edinburgh, Scotland, Dec 5, 2017. [Photo provided to chinadaily.com.cn]
China and UK agreed to enhance cooperation in creative cultural sector in a high-level forum in Edinburgh, Scotland, on Tuesday, as the 5th annual China-UK People-to-People Dialogue was held in the UK.

Titled Shaping Cultural Landscapes, the forum convened over 100 high-profile officials and artists from more than 30 well-known Chinese and British arts institutions. In three panel discussions under themes of Reimaging the City, Future Past and Festival of the People, the representatives exchanged ideas in areas including ways to better inherit and innovate cultural heritages, business models of cultural institutions and their digital innovation, as well as the values of culture and arts in urban development.

Addressing the forum, Chinese Vice-Premier Liu Yandong reviewed creative cultural collaborations between the two countries, and encouraged further cooperation, such as creating new projects and promoting cultural trade and investments.