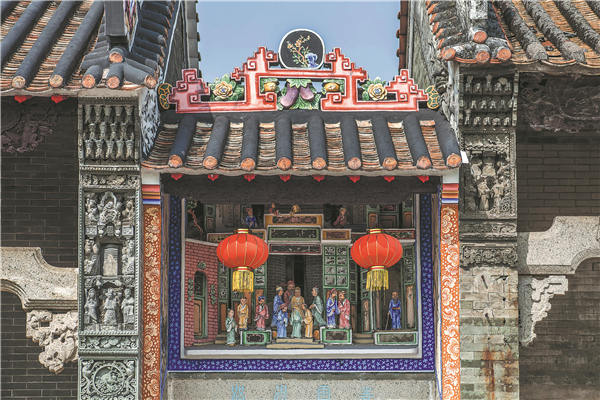 Langtou ancient village in Guangzhou's Huadu district has more than 200 houses in the Qing Dynasty (1644-1911) architectural style, part of the city's unique traditional culture. [Photo by Cao Yingying/China Daily]
With more than 4,000 years of history, Guangzhou, capital of Guangdong province, is home to many design masters who create and innovate cultural treasures, teaching traditional skills to young generations so they can inherit the city's unique culture.

Thanks to its advantageous geographical location and more than 1,000 years of foreign trade, the city has integrated Western and Eastern cultural essences and has formed its own distinctive culture.

Porcelain

Guangcai porcelain-a gold polychrome glazed porcelain - is a representative of Guangzhou's craftwork.

"White porcelain bodies made in Jingdezhen were transported to Guangzhou, painted and fired at the kilns, turning into painted porcelain," explained Tan Guanghui, who has worked in the field for more than 40 years.

Influenced by the Jingdezhen style of painting and the use of enamel on copper, Guangzhou craftsmen developed the first guangcai porcelain during the Emperor Kangxi period in the Qing Dynasty (1644-1911).

The delicate enamel goods were part of China's booming maritime trade in the Qing Dynasty and showcased the charm of Cantonese craftsmanship.
Witnessing the legacy and development over the past 300 years, modern-day guangcai is famous for its brilliant and luxuriant features of rich patterns and bright colors. As an export product, guangcai combines the essence of Eastern and Western cultures, and has become an agent of cultural exchange.

There are only 1,000 craftsmen and 10 guangcai studios in Guangzhou, Tan said. He and his wife Du Li opened their own studio in 2000.

Du said that at first, they went through a tough time as they couldn't afford the raw materials.