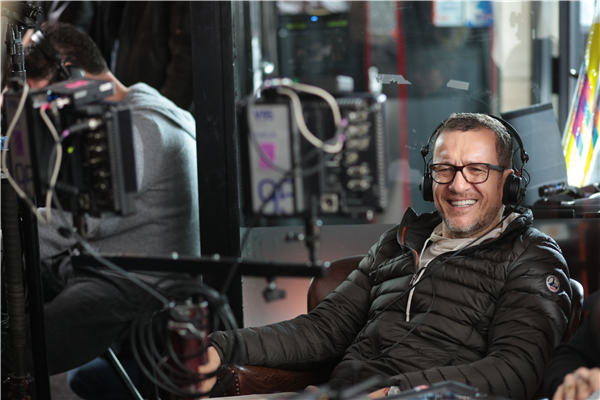 Dany Boon will see his fifth directorial feature, Raid Dingue, hit Chinese theaters on Friday. [Photo provided to China Daily]
French filmmaker Dany Boon hopes his new comedy about a female police trainee, who earns a place on an all-male elite force, will tickle the Chinese audience. Xu Fan reports.
Dany Boon may find it easy to make cinema audiences laugh, but the French comedy superstar has a past that might sound sad to most people.

The 51-year-old actor-director was born in Armentieres, a small town in northern France, which he describes as "a very poor neighborhood".

"My parents were poor and isolated, because my grandparents who I barely knew disagreed with their marriage. My mother had me when she was 19 (at that time births were uncommon before the age of 21). She felt lonely and lost. She was so sad," recalls Boon, in a recent telephone interview with China Daily.

"I decided when I was around 8 years old, I would do anything I could to make her laugh and be happy. I got lucky. It worked. She thought I was fun," adds the director, speaking from a hotel in the French city of Strasbourg, on the border with Germany.

His childhood wish ushered in the beginning of a decadeslong effort to become one of the most successful comedians in France.

His 2008 comedy hit Welcome to the Sticks sold up to 20 million tickets to top the all-time domestic box-office charts of French cinema, closely followed by James Cameron's 1997 disaster romance Titanic, France's best-selling movie of all time.

Since then, his directorial movies Nothing to Declare (2011) and Superchondriac (2014) both surpassed 5 million admissions, the bench mark for blockbusters enjoyed by French moviegoers.

His latest and fifth directorial feature, Raid Dingue, will arrive in Chinese mainland theaters on Friday.

The movie centers on an accident-prone trainee, who is striving to become the first woman in the previous all-male French elite police tactical unit known as RAID.

Created in 1985, RAID is an elite special forces unit of the French National Police tasked with defending the country in real life.

Speaking about the 105-minute comedy, Boon says he had the idea to make a police-themed movie a long time ago.

"But I needed a new idea, something modern," says the director, who also co-written the story with Sarah Kaminsky.

Originally conceiving the protagonist as a male character, Boon hesitated from doing so over concerns that the storyline would prove too similar to some earlier classics. He finally changed the concept for the film after meeting French actress Alice Pol, who starred in Boon's comedy Superchondriac.

Describing Pol as "funny and clumsy", Boon tailored the leading role for her, believing she can become "the little rock in the police team shoe".
In the movie, Pol plays a trainee named Johanna Pasquali, the daughter of the French interior minister who dreams of becoming a hero. She frequently causes trouble, from accidentally injuring the president to unintentionally leaking information to terrorists. But her determination and courage finally wins praise from those who once underestimated her.