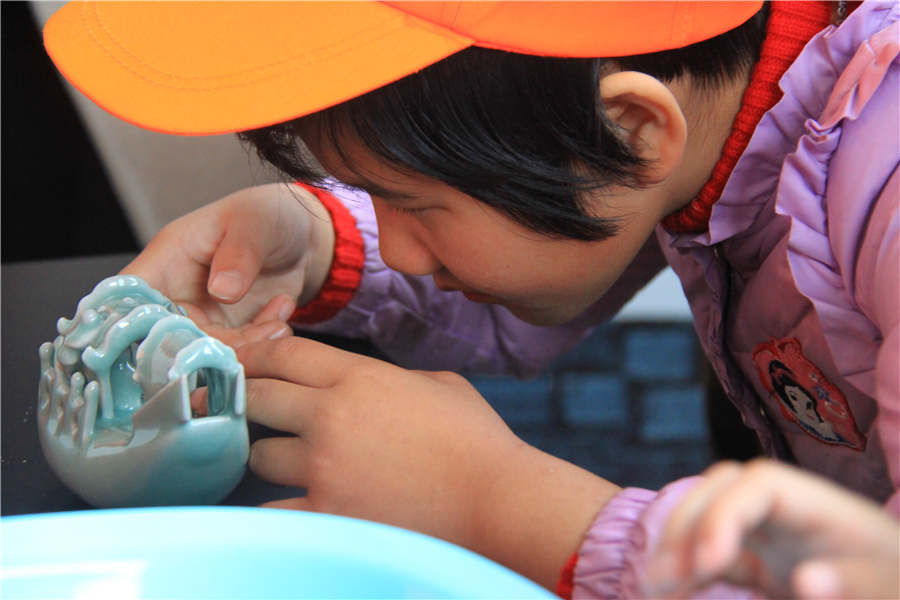 A visually-impaired student touches a replica of a relic at the Zhejiang Provincial Museum in Hangzhou, Zhejiang province, Nov 22, 2017. [Photo provided to chinadaily.com.cn]
The moment the fingers of Jin Guangliang came into contact with the taut strings of a Tang Dynasty (618-907) zither (a replica), he felt that his own heartstrings were being plucked. And as water dipped from a boat-shaped porcelain jar into a basin, making a slight pounding sound, it also knocked on the hearts of those standing nearby. The jar is a replica of a piece from China's Yuan Dynasty (1271-1368), used as a water holder in one's study.
On Wednesday, more than 200 teenagers from the Zhejiang Provincial School for Visually-Impaired Students visited Zhejiang Provincial Museum in Hangzhou, where they tried to feel the history of the country, led by their own senses and a curiosity as precious as the antiques.