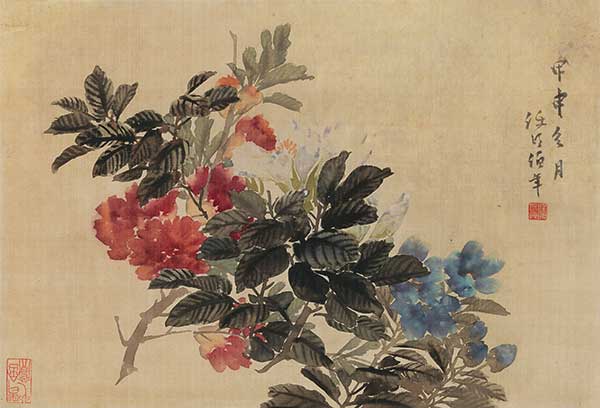 Paintings on display at the Beauty in the New Era exhibition include Back Basket by Pang Xunqin, Lamp, Flower and Fruit by Lin Fengmian and Flower and Bird by Ren Bonian.[Photo provided to China Daily]
Beauty in the New Era, an exhibition at the National Art Museum of China in Beijing, displays works from the modernist revolution in Chinese art. Lin Qi reports.
For those who can afford it, owning expensive works of art is often viewed as a showcase for their wealth and an investment that may bring enormous returns.
On Wednesday, the price of the world's most expensive artwork soared to $450 million at a New York auction. This staggering sum was paid for Salvator Mundi, a painting attributed to the Renaissance master Leonardo da Vinci.
The buzz created by this will die down, and people will again focus on the eternal charm of art and the uncommon spirit of artists, which are what appeal to most people rather than the monetary value of an artist's work.
This is the sentiment that has motivated Beauty in the New Era, an exhibition on at the National Art Museum of China in Beijing, through Sunday.
On display are more than 200 paintings and calligraphic works from the museum's collection, through which one can look back on the modernist revolution of Chinese art. This began in the late 19th century and proceeded throughout the 20th century.
And it is a masters' show. The 14 artists featured at the exhibition made progressive endeavors to rejuvenate Chinese painting during the clash of Eastern and Western cultures. Each of them generates pages in any book on the history of modern Chinese art.
Some of them demonstrate their creativity through the traditional Chinese medium of ink paintings. These include He Shaoji who is recognized as the top calligrapher of the Qing Dynasty (1644-1911) and Zhao Zhiqian whose artistic style anticipated the establishment of the Haipai (or Shanghai) School of Painting. Works by the school's forerunners such as Ren Bonian and Wu Changshuo are also exhibited.