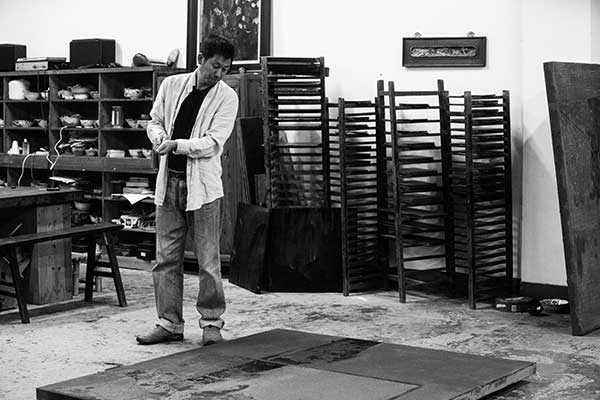 Shen Kelong works on a piece in his studio. Shen brings lacquer craft to his creations.[Photo provided to China Daily]
Lacquer was for centuries an important material used to craft artistic objects in the daily lives of the ancient Chinese. A coating of the material brings a shiny finish to an object that has already been carved, painted or inlaid with decorative materials.
In today's highly industrialized world, intricate lacquer work has mostly been replaced by faster, more convenient production processes.
But one artist, who has lived with the deep tradition of lacquer craft for years, has devoted himself to regaining the glory of traditional lacquer but within a more modern context - by adding a very contemporary, abstract touch.
Shen Kelong, 53, studied mural painting at art college in Nanjing, Jiangsu province, where he hails from. After graduation, he moved to live and teach in Fuzhou, Fujian province, a city that boasts a long-standing history of lacquer craft.
Through this, he found a new direction for his painting. He puts lacquer at the center of his creations as a means to explore to what extent the cultural temperament of the East has been retained.
Magnificent and Changeful, Shen's solo exhibition currently running at Asia Art Center's space in Beijing, brings to the audience more than 20 of the artist's more recent paintings. The exhibition is designed to communicate the thoughts he has accumulated over the past 30 years on the nature and character of lacquer, and its relationship with Chinese culture.
"For a long time I studied the traditional way of making of lacquer work. But I didn't want to be just another artisan repeating exactly what his predecessors did," Shen says.
"The cultural DNA that has been preserved in our ancestors' interaction with lacquer over the centuries is what I'm truly interested in, but I want to transform it and give it a more contemporary feeling that makes a visual impact on people today."