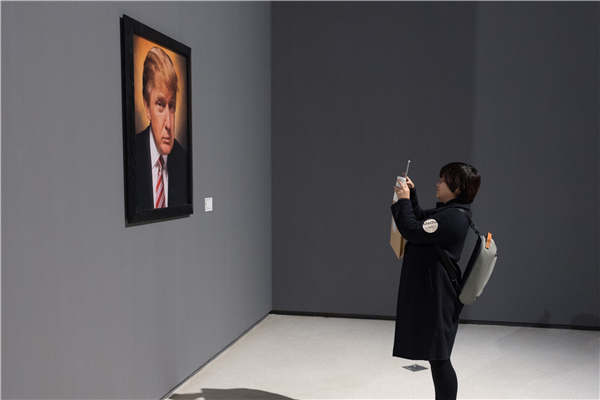 A portrait of US President Donald Trump is part of Serrano's America series on display in Beijing. [Photo provided to China Daily]
What does the phrase "Made in China" represent? US artist Andres Serrano tries to give an answer with a distinctly red hue in An American Perspective, his first solo show in China, which features his most recent Made in China series.
The show, which opened on Saturday at the Red Brick Art Museum, a private museum in Beijing, presents 53 large-format photographs and video works from his 16 major series, including a portrait of US President Donald Trump, shot in 2004, as part of his America series.
The New York-based artist spent about half a month in Beijing this summer producing his Made in China series, in which he shot portraits of Chinese people from all walks of life dressed in wedding gowns.
"The individuals in my works are visual symbols that I use to explore identity and cultural diversity. The wedding gowns refer to China's tradition, love and marriage, and the country's glorious past," says Serrano, adding that he has Chinese blood because his great great-grandfather was Cuban-Chinese.
He invited newly-married couples, waitresses, cooks, villagers, street cleaners, single men and women, and divorced people of different ages and social backgrounds to take part in his work on Chinese marriage.