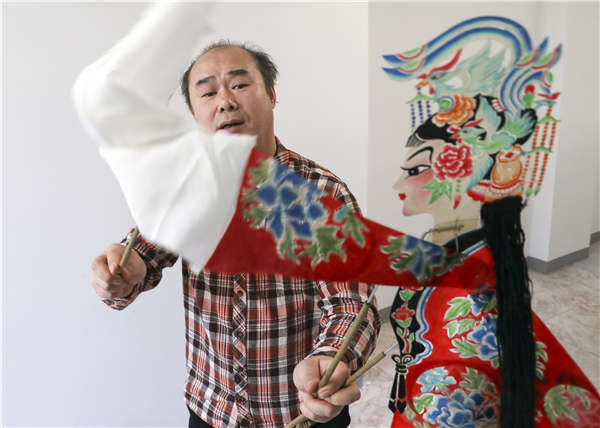 Lu Baogang, director of the Beijing Shadow Show Troupe, demonstrates how to manipulate a puppet in his office in Beijing. He believes reaching out to younger audiences may help revive the age-old art form. [Photo by Zou Hong/China Daily]
Performers of shadow play, Peking Opera and acrobatics are displaying their skills at the Traditional Culture & Arts Week in Beijing. Chen Nan reports.
Lu Baogang can still remember the day his father died of a heart attack in 1979. For Lu, who was 15 then, it felt like sky was falling. That year, as the youngest and only son of his family, Lu dropped out of school and started working with the Beijing Shadow Show Troupe, where his father was appointed as director days before he died.
"My mother made the decision for me and I had to obey because I had to earn money to support my family," says Lu, who has four elder sisters.
He was a top student in his class and his dream was to study in university and become a teacher after graduation.
Standing in his office at the Beijing Shadow Show Troupe, which is based in a quiet and hidden hutong (alleyway) in the capital's Xicheng district, Lu, 53, who is now the director of the troupe, recalls the events like they happened yesterday.
The art his father practiced was shadow play, also known as shadow puppetry, an ancient Chinese art form combining music, storytelling and puppets.
The art, which took shape in the Western Han Dynasty (206 BC-AD 24), reached its peak in the Tang (618-907) and Song (960-1279) dynasties.
The troupe celebrates its 60th anniversary this year. And during the ongoing Traditional Culture & Arts Week, which kicked off on Oct 31 and runs through Nov 17, Lu is leading his troupe to display his family's craft.
There were, at one time, two schools of shadow puppetry in Beijing: eastern and western. Although they originated from the same source, they were different when it came to performing styles.
Lu is the fifth generation to follow his family's shadow play tradition, whose style is from the old western school.