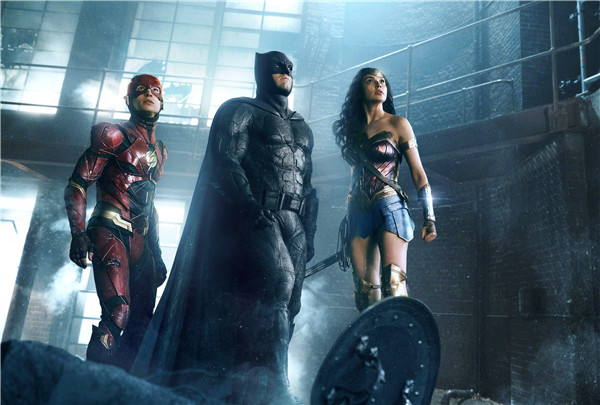 Justice League will be simultaneously released in China and the United States on Nov 17. [Photo provided to China Daily]
Around six decades after the birth of Justice League, one of the most famous metahuman alliances in American comics history, an upcoming movie named after the fictional team will bring them to life.
Justice League, the latest DC Comics film, will be simultaneously released in China and the United States on Nov 17.
A surprise for fans was that China is the first stop for the $220 million film's global promotion tour.
"China is one of the most important film markets in the world," says Ben Affleck, who reprises his role of Batman in the upcoming movie.
Alongside Affleck, the other major stars in Justice League-Wonder Woman played by Gal Gadot; Superman played by Henry Cavill, Flash played by Ezra Miller; Aquaman played by Jason Momoa and Cyborg played by Ray Fisher-were on a whirlwind tour in Beijing in late October.
In recent years, it has been common to see Hollywood stars promote their movies in Chinese cities, but such a large team was unprecedented.
From greeting Chinese fans in Mandarin to taking photos with them, the Justice League team won local hearts.
Statistics from ticket services such as Maoyan and Taopiaopiao showed that Justice League was one of the most anticipated movies in November.
Separately, as part of its promotional campaign in China, distributors screened a 25-minute slice from the 121-minute feature for a small group of Chinese fans and journalists in a theater in Beijing on Oct 27.
The section featured the mourning for Superman's death, and the Justice League teaming up to stop the villain Steppenwolf's attempt to rule the world.