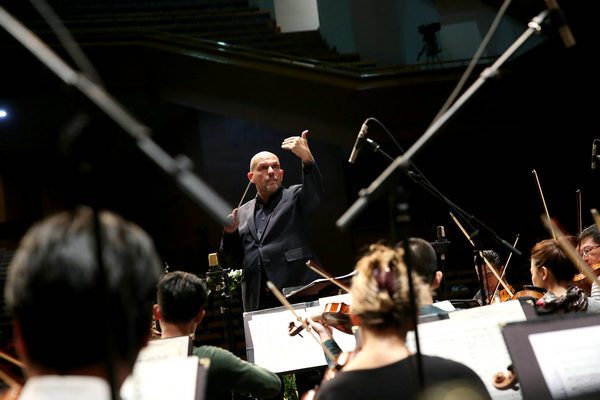 Conductor Jaap van Zweden and the Hong Kong Philharmonic will perform Wagner's Die Walkure in Beijing. [Photo by Jiang Dong/China Daily]
In 1967, the first Salzburg Easter Festival presented a production of Richard Wagner's The Ring of the Nibelung, also known as Ring Cycle, conducted by Herbert von Karajan (1908-89).
That year, Jaap van Zweden was a 7-year-old boy, who loved playing football and the violin.
Five decades later, Van Zweden, the Dutch conductor, who is the music director of the Hong Kong Philharmonic and will be the next music director of the New York Philharmonic starting with the 2018-19 season, will take the baton and lead the Hong Kong Philharmonic to perform Die Walkure, one section of the Ring Cycle, based on the original version of Karajan.
The joint production of the Beijing Music Festival and the Salzburg Easter Festival is to mark the 50th anniversary of the Salzburg Easter Festival and pay tribute to the conductor, Karajan. It will be staged in Beijing on Tuesday and Friday.