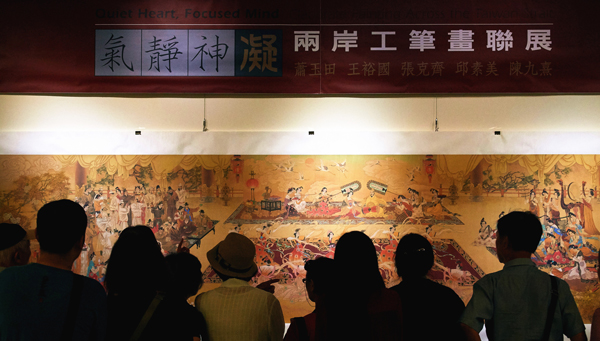 Visitors view a joint exhibition of gongbi paintings held in Taipei, Taiwan, from Oct 7 to Oct 18. [Photo/Xinhua]
A joint exhibition of gongbi (meticulous brushwork) paintings is ongoing in Taipei, Taiwan.
The gongbi technique uses highly detailed brushstrokes that delimit details very precisely and without independent or expressive variation.
Five masters of gongbi had prepared the exhibition for two years. The exhibition featured more than 60 paintings of artists in Chinese mainland and China's Taiwan, including Xiao Yutian, Wang Yuguo and Chen Jiuxi.
"It was the most wonderful and successful cross-Straits exhibition of gongbi paintings I have ever seen ", said by Lin Zhanghu, dean of College of Fine Arts, Taipei National University of the Arts.
The exhibition runs from Oct 7 to Oct 18.