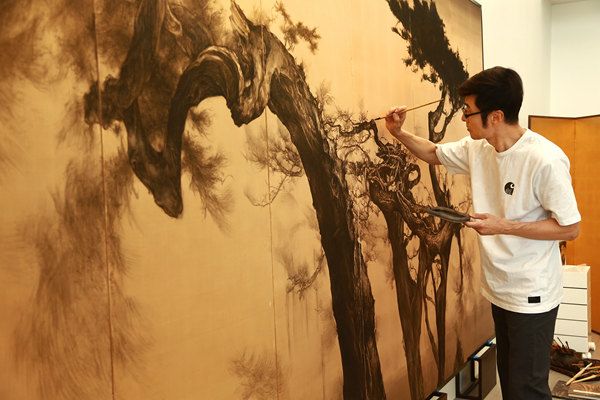 Ink painter Li Huayi works on a painting. [Photo provided to China Daily]
Li Huayi's solo exhibition combines his love for landscapes with a mastery of both modern and traditional painting techniques. Deng Zhangyu reports.
Ink painter Li Huayi's landscape paintings appear to be a mix of traditional Chinese style and Western modernism, much like the Suzhou Museum - a building designed by Chinese-American architect I.M.Pei that fuses elements from both East and West - where the Shanghai native's solo show opened recently.
On display are 18 large landscape paintings - many are several meters long - that the 69-year-old has produced over the past decade. The exhibition, entitled Fantasies on Paper and Enchantments in Gold, includes many of the artist's iconic landscapes on paper and more recent works using gilded screens as a medium.
The San Francisco-based artist's works are widely collected by such Western museums as the British Museum, Harvard Art Museums and the Cleveland Museum of Art. Many of his paintings have fetched hundreds of thousands of dollars at international auctions in recent years.
Li is regarded as ranking among a handful of influential artists whose ink paintings resemble those of the masters of the Song Dynasty (960-1279). Landscapes by artists from this era have long been regarded as the best of their kind in Chinese art history.
Chen Ruijin, director of the Suzhou Museum, says that the high mountains, ancient trees, rugged crags and cliffs found in Li's works often remind viewers of art from this period. Yet, on closer inspection, Chen believes Li's technique of combining elements from modern Western art with traditional Chinese ink painting are soon revealed.
Li, who was born in 1948 to a rich family in Shanghai, started to learn ink painting from the age of 6 under Wang Jimei, son of one of Shanghai's most renowned traditional painters, Wang Zhen. Ten years later, he began to study Western art with Zhang Chongren, a graduate of the Belgian Royal Academy of Fine Arts.
In 1982, Li moved to San Francisco and later obtained his art degree from the Academy of Arts before settling down in the coastal city.
"It was very easy for me to appreciate Chinese masters' ink paintings collected by museums in the US. I often visited their art exhibitions in order to see these paintings," Li says.