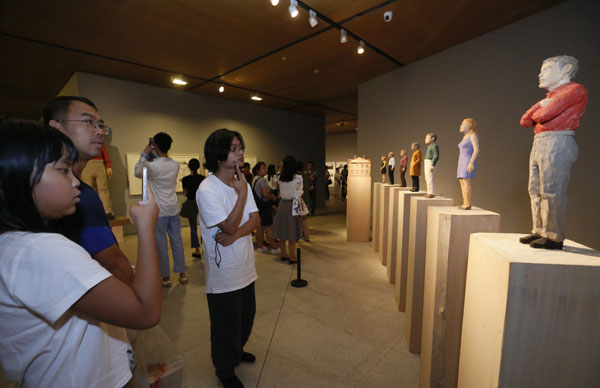 Visitors at the Central Academy of Fine Arts in Beijing, where Paradigm of Art-featuring paintings, photos, sculptures and installations by contemporary German artists-is being hosted. [Photo provided to China Daily]
Two years ago, Germany's largest-ever contemporary Chinese art event, China 8, showed no fewer than 500 works in eight cities in the Rhine-Ruhr region and attracted about 120,000 visitors in four months, says Fan Di'an, the initiative's Chinese curator.
Now, Fan and the German curator of China 8, Walter Smerling, are collaborating again to present Deutschland 8: German Art in China.
Seven exhibitions and one academic forum held in Beijing's museums through the month are intended to present the most comprehensive introduction of contemporary German art since the 1950s in China. It features more than 300 works by 55 artists.
Deutschland 8 is one of many events this year to mark the 45th anniversary of the establishment of diplomatic relations between China and Germany.
German art influenced many Chinese artists in the 1980s, when they were introduced to contemporary Western art, following the start of the country's reform and opening-up.
But the diversity of German art, which has produced many noted figures in the international art community, is largely unknown among the Chinese public.
Smerling, who chairs the Bonn-based Foundation for Art and Culture, says the incumbent event enables people to compare different styles of established and young, emerging artists. It reflects the roles of art and dialogues between cultures in the ever-changing world.
He says the event should expand people's understanding, rather than make them draw conclusions or form fixed impressions, of German art.
Fan, who heads the Central Academy of Fine Arts in Beijing, says such exhibitions provide an artistic perspective to understand German values that embrace artisanship, anti-commercialism and anti-mediocrity.
"For example, while digital images dominate the world, many German artists still explore the possibilities of painting with persistence."
He adds that Deutschland 8 doesn't aim to show as many works as possible because Chinese people now pay frequent visits to museums abroad.