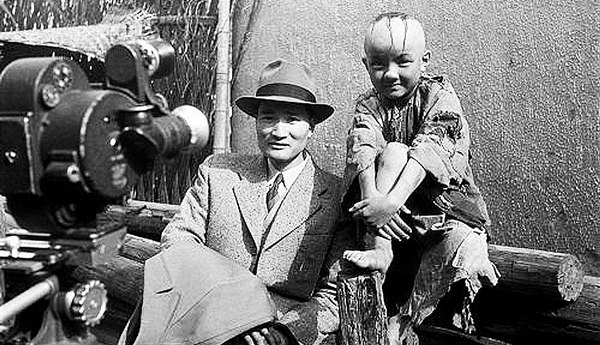 Zhang Leping (left) and Wang Longji who played Sanmao in the movie Winter of Three Hairs in 1949. PROVIDED TO CHINA DAILY
He is not as well-known as Walt Disney's favorite characters, but in China the love for him has endured almost since Donald Duck hit the screen
It was their hairstyles or headgear as much as anything that gave them instant recognition.
First, in 1928, the mouse with erect black ears and a semi-permanent grin made his grand entrance.
Then, the following year, came the youngster with the golden locks with a swished-back clump standing up in the middle of it all.
In 1934 the duck with a sailor's hat and shirt and a red bowtie said hello to the world.
Then, the following year, the lad with three solitary strands of hair on an otherwise bald head shuffled onto the stage, the hair and his two bare feet signaling that for him, unlike the other three characters, life was to be endured rather than enjoyed.
The wonder of all this is that more than 80 years after these characters — the Americans Mickey Mouse and Donald Duck, the Belgian Tintin and the Chinese Sanmao — first appeared, they are still with us, ageing yet ageless, and the great amusement they gave us has left its mark on billions of people worldwide.
But beyond that fun, delivered through comic books, on the big screen and on television, these characters have at times had a serious underside. In fact in the book How to Read Donald Duck, first published in Spanish in 1971, and which became a bestseller in Latin America, Ariel Dorfman and Amand Mattelard depicted Disney comics as tools for spreading Western capitalism. As for the brave and adventurous Tintin, his first outing in the world was in a work titled Tintin in the Land of the Sovi-ets, which could not have been more political.
In Sanmao, a world away from the assertive, well-to-do, swaggering and happy-go lucky often present in Mickey Mouse and Donald Duck, the seriousness lay in other directions.
His story is that of an orphan who moves to Shanghai to earn a living. He takes on numerous jobs such as selling newspapers, polishing shoes and performing kung fu. Despite his efforts, he cannot make ends meet, he sleeps on the streets and many treat him with distain.
Nevertheless, he is always keen to extend a helping hand to the less fortunate, to the point of giving whatever little food he has to beggars. He is also highly ethical, evidenced, in one case, by his refusal to join a gang of thieves who pledge that if he does he will be well fed and looked after forevermore.
Sanmao, which means three hairs, was created by the late Zhang Leping, one of China's most acclaimed comic artists, and this year marks the 70th anniversary of the most successful Sanmao comic book, Winter of Three Hairs, which had a print-run of more than 10 million copies. It is also listed as one of the 100 must-read books by China's Ministry of Education.
Zhang was born in Haiyan, Zhejiang province in 1910, and his early life was marked by the kind of hardships Sanmao would go through. The earnings of his father, who worked as a primary school teacher, were barely enough to support a family of six, and life became even harder for the family on the death of Zhang's mother, when he was 9.
After completing primary school he was forced to work to support the family. He first worked as an apprentice in a wood factory before finding a job in a printing plant in the suburbs of Shanghai in 1923, and about this time he took on several short-term jobs. He said that many of the bosses he worked for were demanding and cruel, often beating up employees. These men are depicted in Winter of Three Hairs.