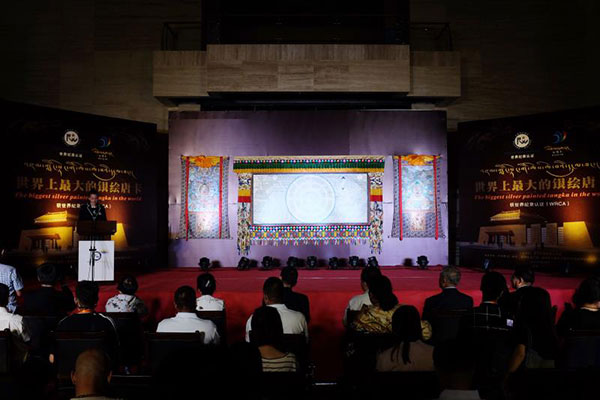 The world's largest silver thangka is unveiled in Dunhuang, Northwest China's Gansu province, Sept 20, 2017. [Photo/cnr.cn]
The world's biggest silver painted thangka was unveiled in Dunhuang, Northwest China's Gansu province, on Wednesday.
The unveiling coincided with the second Silk Road (Dunhuang) International Cultural Expo held in the city, marking a new achievement in enriching the genre of the Tibetan Buddhist painting.
The 2.3-meter-high and 3.6-meter-long silver piece, titled King Shambala, took a year and a half to finish by two thangka masters from Belkal Cultural Inheritance & Innovation Expo Park Co Ltd, a local cultural company in Xiahe county, Gannan Tibetan autonomous prefecture. It depicts paradise - a sacred area surrounded by snow-capped mountains, lakes and gardens - as imagined by the Tibetan people.
The World's Record Certification staff members performed on-site measurements and certificated the artwork the biggest of its kind in the world.
Thangka, a traditional art style of Tibetan Buddhist painting, is usually painted with mineral and organic pigments derived from materials such as coral, agate, sapphire, pearl and gold, and their colors can last for centuries. To expand the art genre, Tibetan artists began to make silver thangkas in 2000.