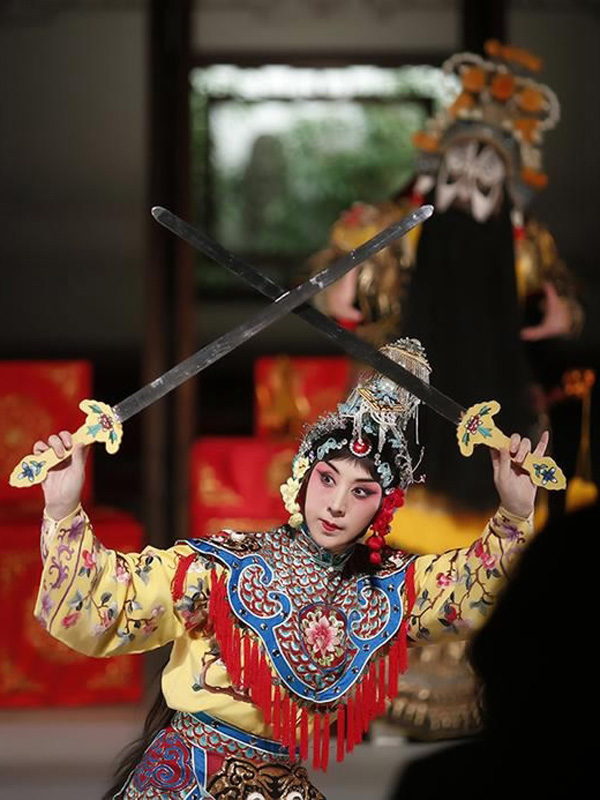 Shi Yihong, who plays Concubine Yu. [Photo/CGTN]
"The Chinese garden in the Metropolitan Museum has floors, stairs and stones from the ancient Chinese era. Performing in such a space is very, very special. The challenge was figuring out how to stage an opera in such a space, so that the audience feels personally in the scene, and can even play with us at the same time," said Shi Yihong, as the lead Concubine Yu.
According to the staff, the Metropolitan Museum of Art chose the drama as a sort of companion piece to a recently completed exhibition titled "Age of Empires" devoted to the Qin Dynasty, the same period as the love tragedy.
Mike Hearn, the Douglas Dillon Chairman of Asian Art at The Met, said that over 350,000 people saw the exhibition, remarking that there is a strong appetite for Asian culture in New York.
"Asia is looming large on the horizon both economically and politically and so it's very important to have a cultural perspective, to have a historical sense of where these cultures come from," said Hearn.
The opera was first introduced to international audiences through the 1993 movie of the same name by director Chen Kaige. The movie, which explored the lives of individuals and families of mid-20th century China, won international fame.