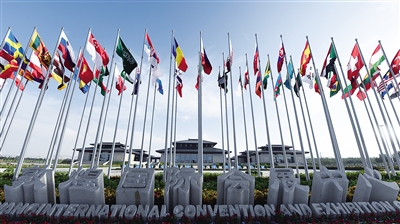 [Photo/gscn.com.cn]
The second Silk Road (Dunhuang) International Cultural Expo (SRDICE) will be held in Dunhuang, Northwest China's Gansu province, from Sept 20-21.
The expo, held annually in Dunhuang, is an important platform organized by the Chinese government for cultural cooperation and communication among countries involved in the Belt and Road Initiative.
Dunhuang, most famous for the Mogao caves, is an important stop on the ancient Silk Road.
The first SRDICE was opened on Sept 20, 2016, attracting 95 delegations from 85 countries and five international organizations. It included a high-level conference, forums, cultural exhibitions and performances to display cultural products and promote cultural cooperation.
The expo's cultural exhibitions showcased some 8,500 exhibits from more than 60 countries, ranging from cultural relics, fine arts and photography, creative designs to intangible heritage.
The Dunhuang Declaration was launched at the expo. It plans paths and directions for cultural cooperation among countries along the Silk Road and lays a cultural foundation for development of the Belt and Road Initiative.