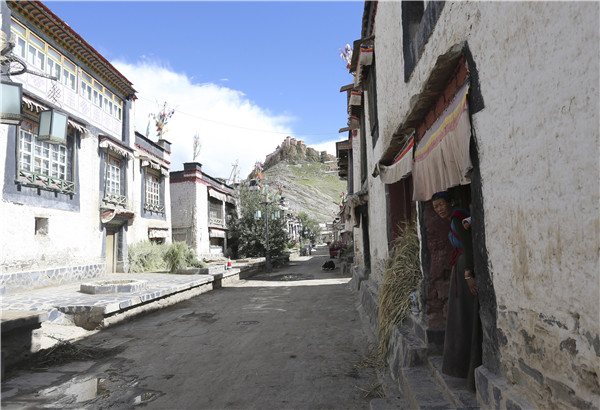 A 600-year-old street in Gyalze county in the Tibet autonomous region is still home to about 100 households. The local government is working with experts from Shanghai to preserve the cultural heritage of the area. [Photo by Feng Yongbin/China Daily]
Cao Yongkang from Shanghai Jiaotong University first visited an old street in Gyalze county of the Tibet autonomous region in 2013, he was thrilled.
"I was excited because there are still so many people living in the area, which helps keep the old street's authenticity alive," recalls Cao, an architecture professor.
The old street, located in the north of the county in Shigatse city, is at an elevation of about 4,000 meters.
It is a residential area with a history of more than 600 years.
The Palcho Monastery is located near the street.
Gyalze is today an important transport hub for Lhasa, Shigatse and another county called Yadong. But the old street in Gyalze was the center of business in the olden days when Tibetan merchants bought and sold goods from Indian and Nepalese traders.
The street still has one of Tibet's earliest coffee shops.
Cao was invited to help with the preservation of the ancient street in 2013 after some Shanghai local government officials went to work in Shigatse and noticed it.
"Gyalze is important in many ways. Earlier, the county was the only route to pass for people traveling from Nepal to Lhasa, through Yadong, and it has developed commercially as well. Gyalze also has good agriculture," Cao says.