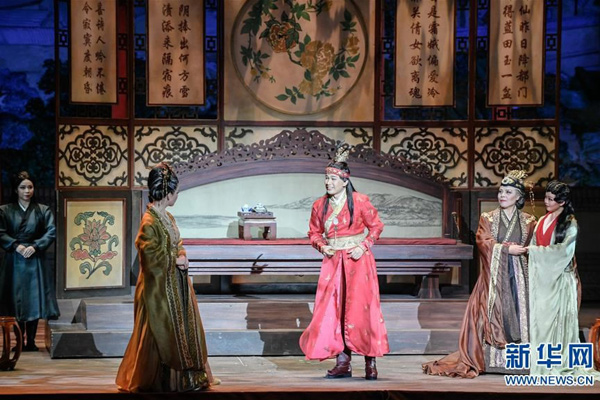 A still from "A Dream of Red Mansions". [Photo/Xinhua]
The English-version opera of the Chinese classic "A Dream of Red Mansions" has come to China, after wowing the Western audiences last September in San Francisco.
It was no doubt a daunting attempt by the San Francisco Opera. The production is now under close scrutiny of Chinese audience who hold the original novel dear to their hearts. Although watching the opera in English may prove to be a challenge for some.
In its first leg, the opera was staged at Poly Theater in Beijing on September 8-9 before embarking on a tour to the capitals of central Hunan and Hubei provinces.
The Chinese literary classic "A Dream of Red Mansions" has been adapted into TV series, movies, stage plays and regional operas. But never has it been adapted into a Western opera sung in English.
Originally produced for the audience in the US, the opera avoids sketching an all-inclusive story to represent the novel, which has total of 120 chapters.
It chooses instead to focus on the ill-fated love of the main characters Bao Yu and Dai Yu, against the backdrop of the fall of a prominent family during the Qing Dynasty (1644-1911).
"Chinese story, or Western story... We're all humans. So we have something in common. We all want to be loved, all want to love. So from that point of view, there's no difference. It's just a story that happens in China, or in ancient China," said Bright Shen, composer and librettist of the opera.
The four hundred characters depicted in the novel have been pared down to just seven, which might come as a shock to Red Chamber fans, but director Stan Lai says the opera still retains the essence of the novel.