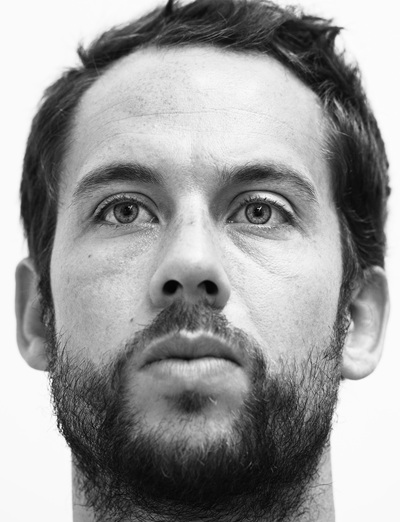 French artist Julien des Monstiers. [Photo provided to China Daily]
Every day, he rode a three-wheeled vehicle to commute between his rented courtyard house and a studio where he produced his paintings.
He paid his daily bills through phone and bought lots of things on Taobao, China's largest e-commerce platform. He also registered on WeChat, a popular instant messaging app.
He made full use of his time living in a city that is different from Paris and produced more than 10 large-scale oil paintings.
His last two works produced in Beijing are inspired by images of the god of wealth made by traditional Chinese woodblock printing. Monstiers was intrigued by such pictures and he painted it on a large-size canvas. He even painted the exact Chinese characters on it.
"Writing Chinese characters is like another kind of painting for me," he says.
The French artist doesn't only paint on canvas. He applies the technique of making woodblock prints using a thin layer of plastic to transform the paints he draws on wood to his large-scale canvas part by part.
Monstiers says he loves the process of transforming, which generates the power of resistance, a frequent topic he uses in his works.
He is a winner of the Yishu 8 prize, which supports artists from France and China to do art residence projects in the two countries.
Christine Cayol, founder of Yishu 8, an art institute that helms the program, says Monstiers' paintings show a dialogue between the artist and such masters as Claude Monet and Pablo Picasso, as well as a dialogue between the artist and Chinese culture.
If you go
10 am-6 pm, through Oct 11. 20 East Huangchenggen North Street, Dongcheng district, Beijing. 010-6581-9058.