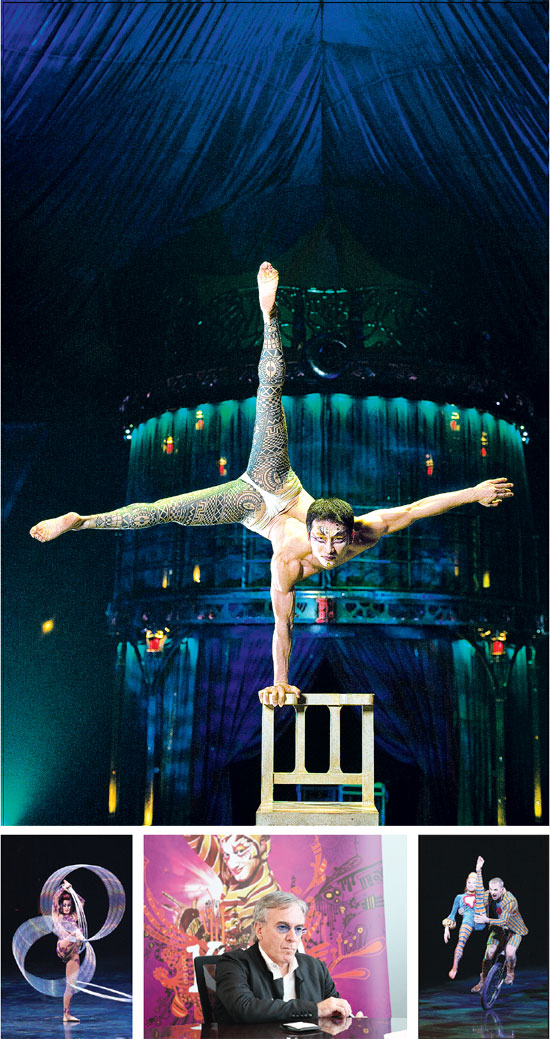 Clockwise from top: Yao Dengbo's solo performance during Cirque du Soleil's new show Kooza; Chinese conglomerate Fosun Group acquired a 25-percent share in Cirque du Soleil in 2015; Daniel Lamarre; Cirque du Soleil will bring its show back to China starting October. [Photos Provided to China Daily]
A decade after its debut in China, the Canadian entertainment company is now returning with an ambitious plan: to bring a touring show to the country every year in addition to a resident show in Hangzhou
Having grown up in a remote village in Anhui province, where more than 70 percent of China's circus performers come from, Yao Dengbo learned how to be an acrobat when he was just 6 years old.
What started out solely as a means of providing for his family soon turned into a passion. In 2007, Yao was spotted by a talent scout during a street performance in the US and was urged to audition for Cirque du Soleil's new show Kooza.
Yao has since been performing a solo segment during the two-hour show, using his hands to balance on a tower of chairs as high as 8 meters.
Now, after following the famous circus troupe to 18 countries and performing for 6.85 million people over the past decade, the 40-year-old will finally get to perform at home.