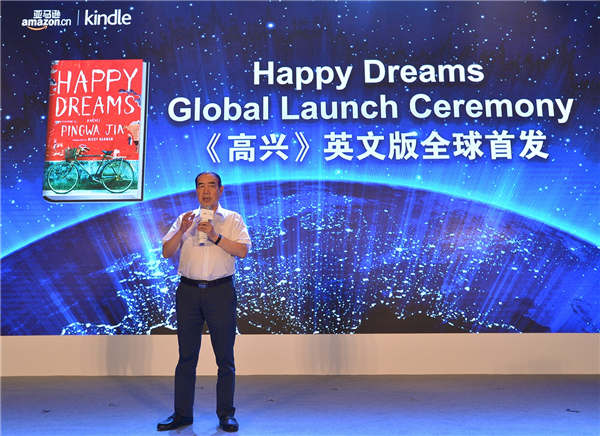 Writer Jia Pingwa attends the launch ceremony of the English-language version of his novel, Happy Dreams. The book tells the story of migrant workers in cities. [Photo provided to China Daily]
An English-language version of Jia Pingwa's work, Happy Dreams, has just been published in both print and electronic formats. It looks at the lives of scrappers against the backdrop of big social changes. Yang Yang reports.
One afternoon in 2004, Chinese writer Jia Pingwa received his primary school classmate Liu Shuzhen at his home in Xi'an, capital of Northwest China's Shaanxi province. Liu, a farmer from a poor village in Shaanxi, had tried to visit Jia before, but Jia was out then.
This time, Liu told the writer that he came to Xi'an to join his son, who delivered briquettes. But the father left the son and became a scrapper after a fight.
Liu had changed his name from Shuzhen to Gaoxing, which means happy, because he was so delighted to come to Xi'an.
Like tens of thousands of scrappers living in Xi'an at the turn of the century, Liu lived a hard life, sleeping in a shack built with plastic boards.
In summer, it was so hot that he had to pour water on the ground and spread a husk mat on it to be able to fall asleep. However, Jia found Liu was extremely humorous and optimistic when telling him stories about scrappers that day.
Jia, a well-know writer, who has lived in Xi'an for more than 30 years, had seen many scrappers around the city, but he did not know anything about their lives.
These people were in general invisible.
His classmate's stories inspired him to write a novel about this group, who usually come from the countryside, try to make some money and dream of a better life.
It was a generation of migrant workers against the backdrop of big social changes.
"I wanted to record with my novel how this generation of migrant workers like Liu entered the city, how they made a living, how they felt about the city and their destinies. I am happy if readers learn more about them and their lives through my novel," says Jia.
Jia did a lot of interviews with the workers. And from October 2005 to February 2007, Jia rewrote his draft four times until he was satisfied. Happy Dreams had a print run of 300,000 copies when it was published in 2007.
Now an English version, published on Aug 23, is available in 183 countries, in both print and electronic formats.
The novel tells the story of the protagonist, Liu Gaoxing, or Happy Liu, and his friends in the city.