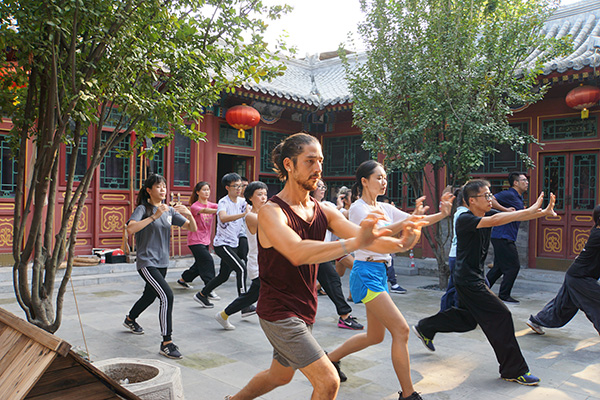 Kung fu enthusiasts practice martial arts in the Fly by Knight Courtyard, a hostel in Beijing that offers free martial arts classes for guests. [Photo provided to China Daily]
It is nestled in one of Beijing's traditional hutong (alleyways), but this is no ordinary courtyard-its doors are open to kung fu enthusiasts from all walks of life.
The Fly by Knight Courtyard is a martial arts-themed hostel that has been offering free weekly kung fu classes to visitors since 2011.
Students are taught fundamental skills that can be applied to different kung fu styles, says founder Daniel Huang from Taiwan.
"If kung fu is a pyramid, what we are doing is building a right foundation for them," he says. "They can be both physically and mentally prepared to learn skills at a deeper level."
Beijing-based tech engineer Yang Xinhao is a regular visitor.
"I have been interested in martial arts novels since I was young," the 25-year-old says.
"Here, they welcome newbies like me to the group. That places kung fu within reach."
The training has improved his physical and mental wellbeing, Yang says.
"Practicing with peers in the courtyard helps me find peace," he says.
The discipline and patience needed to build a solid martial arts foundation has also benefited his career.
Related: Kung fu for the future