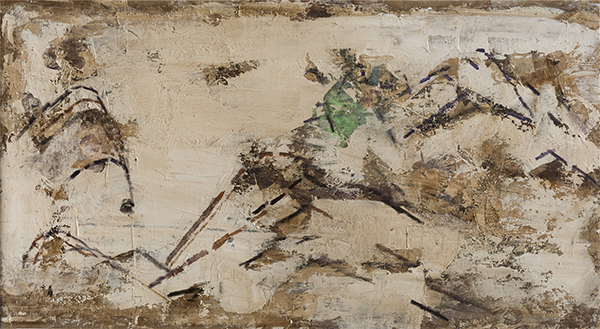 A painting by Bian Qing, a part of the Anthology of Visible Mountains series. [Photo provided to China Daily]
Bian Qing's Anthology of Hidden Mountains series appears at first glance to be ink-and-water paintings depicting landscapes.
But a closer look reveals they're oil works.
The 34-year-old uses oil pigments to present a mixed feeling of purity, reclusiveness and serenity-typical of classical Chinese shanshui (mountain-and-water) paintings. The Beijing artist paints the elements of shanshui, including mountains, rocks, clouds, water and trees. He employs the genre's basic brush techniques, such as gou (outlining), cun (shading), dian (dotting) and ran (coloring).
He reduces the details and colors of his subjects. Rather, he gives a brief depiction-a smooth line to represent a mountain and light dots to suggest a thick mist-by which he seeks to better show the textures of the pigments and canvas. He also aspires to communicate a Taoist state of mind, a belief in dao fa zi ran, or "to follow the rules of nature".
He was an oil painting major in college. Bian has also long been a Taoist practitioner, he says on the sidelines of his solo exhibition, Mountain Wave, in the Chinese capital.
The Anthology of Hidden Mountains series is displayed at the show.
Bian says he entered the "realm of Taoism" out of an interest in things he felt to be mysterious and metaphysical. He lived and meditated at a Taoist temple on the outskirts of Beijing for two years. As he became more knowledgeable about Taoist theories, he also began to establish an individual approach to painting.
"Chinese cultural traditions do not emphasize physical resemblance. When one paints a mountain, he does not depict what he actually sees but, rather, a spiritual meaning that indicates his inner world-his hidden emotions and the relationship he hopes to build with the environment he lives in," Bian say.