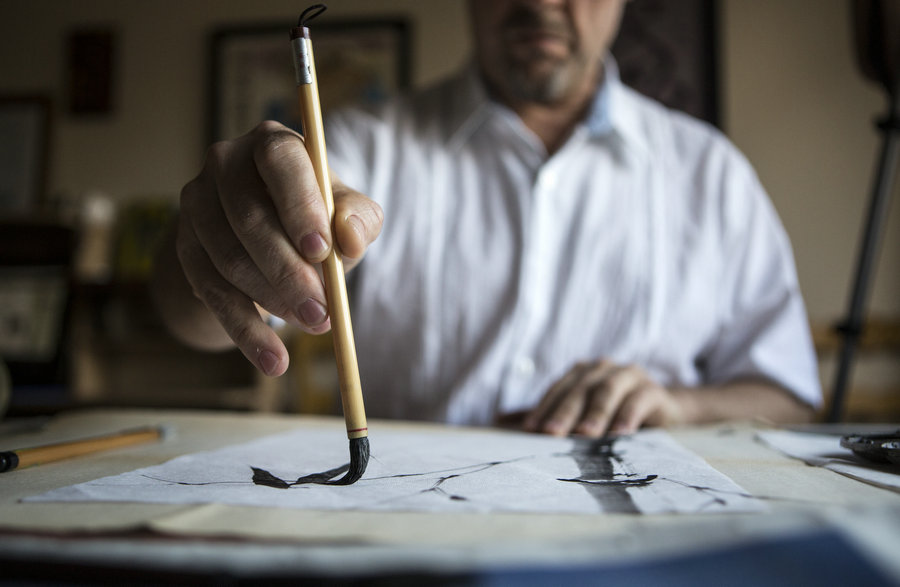 Argentine artist Martin Mazia paints a bamboo at his home, Aug 18, 2017. [Photo/Xinhua]
A 49-year-old Argentine artist Martin Mazia has been learning Chinese painting and calligraphy for 17 years without ever setting foot in China.
Although he stumbles on Chinese, Martin is good at the four main categories of Chinese calligraphy. He can even write jia gu wen, or oracle-bone scripture, (the earliest evidence of Chinese use of the written word).
Surrounded by Chinese paintings and calligraphy in his home, Martin said the Chinese culture and philosophy was the soul of the works.
The strong attachment to Chinese painting and calligraphy began with a traditional Chinese medicine class where Martin intended to learn some medical knowledge to soothe his pain. During the learning, he was enchanted by Chinese characters.
Later he did a lot of research on the internet and learned Chinese from the local Chinese.
"Chinese culture has many unique things. After years-long study, I find all the arts from different cultures have one thing in common: pursue of beauty," Martin said.
Now, he teaches Chinese painting and calligraphy.