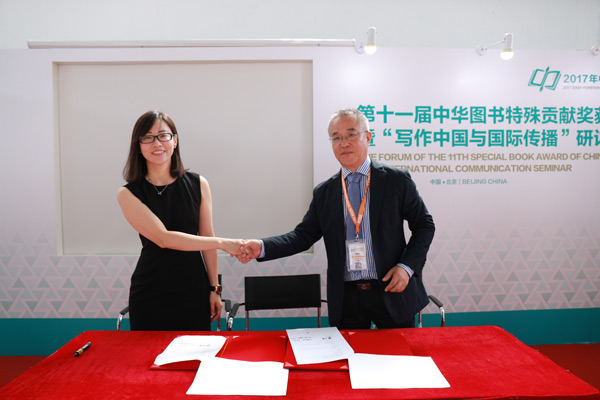 [Photo provided to chinadaily.com.cn]
Foreign writers have signed agreements to publish 38 new titles on China at the Beijing International Book Fair.
Sinologists, professors, doctors, journalists and politicians are among those to successfully pitch their ideas at the book fair on August 23.
"These titles delve deep into Chinese society and life, and they have the potential to be bestselling books to global readers," Xu Baofeng from Chinese Culture Translation and Studies Supports, said.
He added that those books will be eligible for subsidies during the process of publishing.
Forty-six sinologists from 34 countries, who are in Beijing for the week-long Sino-Foreign Literature Translation and Publishing Workshop, witnessed the signing ceremony, together with 12 winners of the Special Book Award of China, and representatives from more than 10 publishing houses.
The 38 titles were selected from 72 candidates, pitched by about a 100 writers, covering topics including philosophy, politics, society, culture, literature and arts in 19 languages.
The deals are part of the Foreigners Writing about China plan. Launched in March, the plan initiated a global brainstorm-like campaign to solicit publishing topics from 150 publishers and 1,000 Sinologists and translators.
It is an innovative way of boosting the appeal of Chinese topics in foreign markets, Xu said.
On Thursday, a second planning conference was held at the fair.