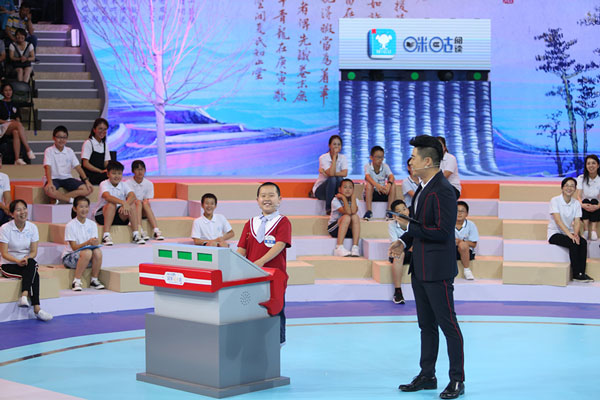 The first episode of National Chinese Characters Contest went on air on July 13. [Photo/Youth.cn]
Popular TV program
National Chinese Characters Contest
has brought people's attention back to written Chinese that 
transcends beyond classrooms.
The competition system is a classical Spelling Bee format with a distinct Chinese twist. Pupils, who usually come from the fifth or sixth grade, are divided into different teams and try to write down every word according to its pronunciation.
In less than two hours, the contestants need to solve dozens of questions concerning error-prone characters, often-used vocabularies, and elegant diction.
Many students keep up with the show every Thursday night. They refer it as the "interesting Chinese lessons on TV". Teachers and parents are also happy to see that children can learn and have fun at the same time.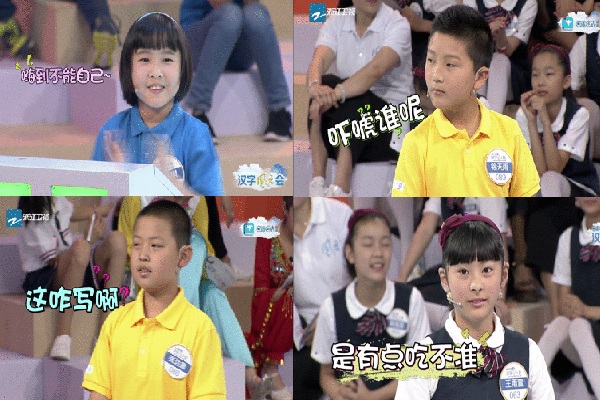 Moments of the contestants are caught on camera. [Photo/Official Weibo account of National Chinese Characters Contest]
A series of short videos extracted from the initial episodes become viral on social media. Each clip have received over 10 million hits.
The program has gone beyond the circle of primary school students. "It is surprisingly informative. I have corrected a lot of my own mistakes by watching the show," netizen Zerone said on Douban, a Chinese social networking website offering information on film, books, music, and exhibitions in Chinese cities.
Guan Zhengwen, chief director of the show, views written Chinese as the root of China's cultural heritage. "TV shows on Chinese language means more than just a trend," he said. "Mass media needs to seek innovation in order to preserve our culture."
Before making this show, he has produced Dictation Assembly of Chinese Characters (or Zhongguo Hanzi Pinxie Dahui), a program for slightly older contestants which was broadcast on CCTV 1 in 2013.
"We hope that National Chinese Character Contest will evoke a national ritual of brushing up our written language," Guan said.
The weekly dictation competition began airing on Zhejiang Satellite Television since July 13 at 9:40 pm. The station rebroadcasts it during the daytime so the children do not have to stay up late.