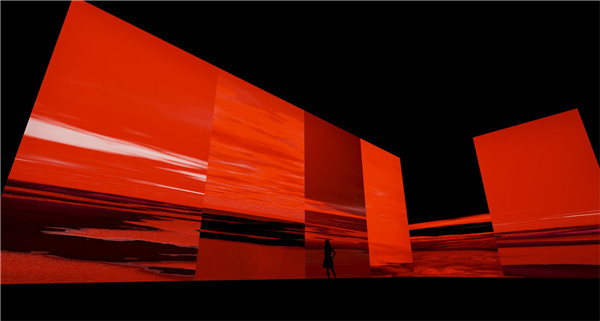 [Photo provided to China Daily]
An immersive exhibition in Beijing invites visitors to reflect on how digital technology is shaping their lives. Lin Qi reports.
Since its opening two weeks ago, Today Art Museum's ongoing exhibition, .zip Future Rhapsody, has drawn big crowds.
The museum, in the heart of Beijing's downtown, has turned three floors of its main building into a playground of lights, sounds and images, using digital technologies.
The exhibition features 27 videos, installations and sound works which create an immersive environment, and it has become a popular place for young urbanities to take pictures and post them on social networks.
The artists featured include Claude Leveque from France, Charles Lindsay from the United States, Refik Anadol from Turkey and homegrown talents such as Feng Mengbo, Lin Xin and Shi Chuan.
The exhibition has received mixed reviews with some praising it and some saying it simply follows a trend of "immersive exhibitions" where new-media works are created to fill the space and provide eye-catching experiences without any artistic depth.
"There is no need to label the exhibition as a show of 'new media art' or 'a marriage of art and technology'," says Wu Juehui, who co-curates the exhibition with Yan Yan, the deputy director of Today Art Museum.
"From the beginning, we did not intend to boast about the kinds of advanced technologies being used. At the heart of this exhibition is what the artists feel and want to express in the digital age."