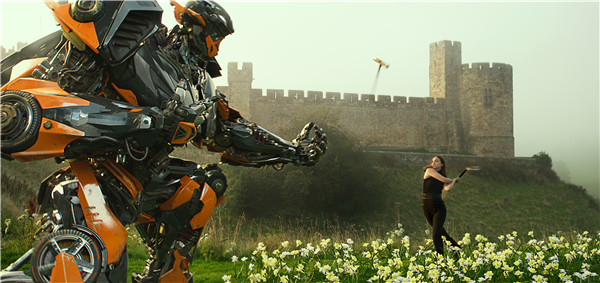 Transformers: The Last Knight is one of the box-office winners in the United States this summer. [Photo provided to China Daily]
Hollywood's love affair with automobiles continues.
A look at July's box-office grosses shows three car-themed movies racing to the Top 10: Transformers: The Last Knight ($128 million), Cars 3 ($146 million) and Baby Driver ($89 million).
While the rest of the world was slow to warm to cars, Americans have embraced them with a vengeance ever since Henry Ford's revolutionary moving assembly line made them affordable.
And though China went on to become the largest automobile manufacturer, by far the longest love affair with auto has been with the United States-Hollywood in particular.
US TV host Jay Leno, whose 150-piece, multimillion-dollar car collection is legendary, says, "Cars are part of the American dream, and Hollywood gets that."
Automobiles have been the go-to device for thrills, chills, action and intimacy. Hollywood starts our engines young, with family classics like Dick Van Dyke's Chitty Chitty Bang Bang (1968), then rolls into Pixar' s lovable 3-D animated phenomenon, Cars, Cars 2 and Cars 3, and picks up speed with the Herbie-Love Bug tweener franchise (1968-2005).
The car mania was further fueled by films that inspired a generation of teenagers packing a learner's permit and yearning for "roll" models.
The low-budget, Oscar-nominated Smokey and the Bandit (1977) peeled out with a whopping $127 million at the box office and TV's Dukes of Hazzard, Knight Rider and Chips ruled the metaphoric streets all through the 1980s.
Hollywood can effortlessly shift gears, with coming-of-age movies like the George Lucas classic American Graffiti (1972) and Penny Marshall's Riding in Cars with Boys (2001).
Given the importance of cars in daily life, is it any wonder that nothing grabs our attention faster than a catastrophic car crash?