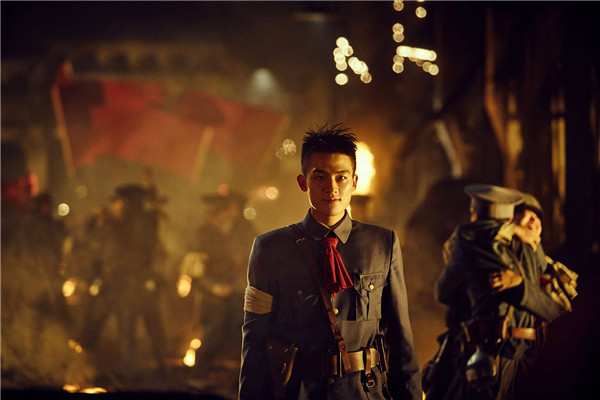 Ou Hao plays the role of Communist general Ye Ting in The Founding of an Army. The general's grandson protests that Ou is "too sissy" to play the military legend. [Photo provided to China Daily]
The summer blockbuster The Founding of an Army has sparked heated discussion on Chinese social media. Xu Fan reports.
The much-anticipated The Founding of an Army has become a hot topic on Chinese social media, also because of opinions expressed by a revolutionary's grandson.
Ye Daying-the grandson of Ye Ting, the late Communist general-recently made a series of posts to protest the movie on Sina Weibo, the Chinese equivalent of Twitter.
First, he criticized the producers for casting young pop idol Ou Hao to star as his grandfather. He says he believes Ou is "too sissy" to play the military legend.
Ye Daying also slams Bai Ke, whom he says shot to fame from comic roles and is not fit for serious war epics.
Bai stars as Qu Qiubai, a Communist leader in the late 1920s and early '30s. Ye Daying, a filmmaker known for his patriotic movies, got more than 20 other descendants of revolutionary heroes to sign an open letter to the State Administration of Press, Publication, Radio, Film and Television, the sectoral regulator, demanding an apology from the producers.
Set in the late '20s, The Founding of an Army, a follow-up to The Founding of a Republic (2009) and Beginning of the Great Revival (2011), cast more than 50 pop idols to play New China's founding fathers or historical figures.
"It could have been a good thing if excellent young actors were hired for this. But the producers recruited heartthrobs for their popularity and the film's profit," Ye Daying wrote in the letter.