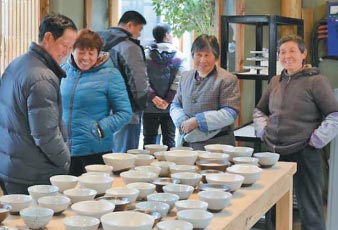 Villagers in Bishan visit a show displaying products made by local artisans and designers at an exhibition center that used to be a barn. [Photo provided to China Daily]
As dusk falls on Bishan village in Anhui province a bar is crammed with villagers downing bloody marys and margaritas after a hard day's toil on the farm. The bar's name, Dog's Bistro, and the interior decorating are straight out of England, yet of the many locals enjoying the evening here, some have never crossed the borders of Anhui province.
Outside the bar, the rest of the village, made up of several hundred white houses with black-tiled upturned eaves, Hui-style architecture common in the area, falls into slumber.
Li Guoyu, owner of the bistro, says the cocktails ritual is the way villagers indulge their fantasies about living like city slickers, and one of the kicks this gives them is knowing that no other villages in these parts can claim to have a bar.
Yet at one stage it seemed that the days of Bishan village, like many similar villages in China, were numbered, many of their inhabitants moving away into cities and leaving an increasingly elderly population to tend to traditional houses, many of them hundreds of years old that had fallen into disrepair.
Migratory flow
Then, about 10 years ago, the nature of that migratory flow, until then a one-way torrent, began to change as urban dwellers, not quite happy with their lot in the urban jungle, began to see the beauty and attractions of the likes of Bishan village.
Thus people like Li began to move to the village, at the foothill of Bishan Mountain, and their desire to be closer to nature turned into something else: a mission to revive the village.
Li came from Shanghai in 2007 and renovated a house about 400 years old, transforming it into a family hotel, and it eventually attracted travelers from home and abroad.
In that regard she was a pioneer, and three years ago she and her husband bought a run-down oil factory and transformed it into another hotel furnished with local-style items, and it is now rated a must-see spot in the travel guide Lonely Planet.
Later, Ou Ling, an artist, moved to the village as a member of the Bishan Project, a plan to revive the traditions and artisanship of Bishan. A bookshop specializing in arts opened at an ancestral hall in the village center and an exhibition center was set up in a barn.