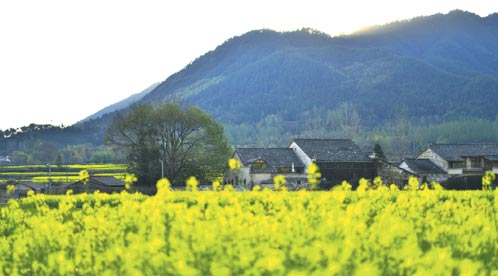 The landscape of Bishan village. [Photo provided to China Daily]
As Wang Shouchang sits sipping from a coffee cup, he revels in a photo book on Hui-style architecture. Behind him on bookshelves sit One Hundred Years of Solitude by Gabriel Garcia Marquez and The Moon and Sixpence by Somerset Maugham, among many other books, and beyond the walls, in the distance, with mountains covered in mist, a cow earns its daily keep in the rice fields.
The 200-year-old ancestral hall in the village of Bishan, in Anhui province, in which Wang is sitting now serves as an art bookshop.
"We were all a bit dubious about how this would go when it opened three years ago," says Wang, 71, a local who works for the bookshop, its wares including works on architecture, art, history and literature.
"On weekends many people from nearby towns and cities come here to buy books because they can't find elsewhere what we have."
The village, nestled at the foot of Bishan Mountain, is a drive of more than hour to the closest city, Huangshan, and for those who need to rely on public transport, getting to the village can be a hassle, a commuter bus passing through it just twice a day.
Yet the bookstore has become a cultural drinking hole, and villagers are the ones who draw most readily from it, Wang says. It regularly holds activities such as "poetry parties", art exhibitions and lectures addressed by writers. For locals whose daily routine consists of farming and raising silkworms, these activities offer them something "fresh with an urban taste", Wang says.