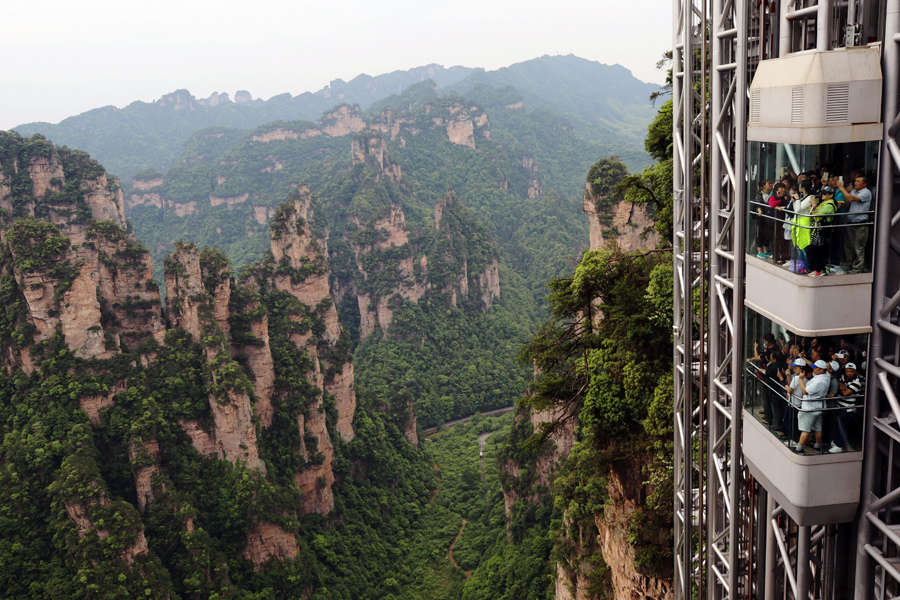 [Photo/Xinhua]
Category of site: Natural site
Brief introduction
With an area of more than 264 sq km, Wulingyuan Scenic and Historic Interest Area sits in Central China's Hunan province. It encompasses three sections: the Zhangjiajie National Forest Reserve, the Suoxi Brook area and the Tianzi Mountain area.
The major topography consists of sandstone hills, evolving into more than 3,103 bizarre peaks, many over 400m high. Between the peaks lie ravines and gorges with streams, pools and waterfalls, and some 40 caves, as well as two large natural bridges. Remote from the outside world, the site is 85 percent covered with trees, and 99 percent covered with vegetation.
The landscape at Wulingyuan is renowned for five wonders: spectacular peaks, unique rocks, secluded valleys, serene waters and deep karst caves.
It was inscribed as a UNESCO World Natural Heritage Site in 1992.
Natural heritage
The entire area is covered with towering cliffs of sandstone and dense unspoiled forests that conceal fantastic caves full of stalactites and stalagmites. The quartzite sandstone hills in Wulingyuan are unique in their large number and fairly pure composition (being 75-95 percent quartz). With the change of seasons and the weather, they constantly present different views to spectators. The highest peak in this area is Tuerwangyue Feng, or Rabbit Watching the Moon Peak, and Tianzi Mountain is particularly recommended for its good view.
The huge number of sandstone columns and peaks - more than 3,000 - are spectacular. These, coupled with other land forms (natural bridges, ravines, waterfalls, streams, pools and caves) and dense broadleaf forest, present an aesthetically beautiful landscape enhanced by the mists and clouds that frequently shroud the site. There are more than 40 caves and two huge natural stone bridges, one of which rises 357m above the valley floor.
There are two spectacular natural bridges in the area: Xianren Qiao, or "Bridge of the Immortals" is 26m long, 1.5-1.8m wide, 1-2m thick and 100m above the gorge. Tianxia Diyi Qiao, or the "Bridge Across the Sky" is much larger, being 40m long, 10m wide and 15m thick. It lies 357m above the valley floor and may be the highest natural bridge in the world.
Wulingyuan is a green treasure store and natural zoo. It lies in the Central China Botanic Region of the Sino-Japanese Botanic Zone, and was a refuge for many ancient species during the Quaternary Glacial Era. There are over 3,000 plant species, above 700 types of trees, up to 450 kinds of ornamental flowers, and about 116 species of vertebrates falling into 50 families.
In addition, hundreds of species of animals are found in Wulingyuan. Among them are rare animals, such as the Chinese giant salamander, Asiatic wild dog, Asiatic black bear, clouded leopard, Chinese water deer, rhesus monkeys, civets and pangolins, and some 20 rare birds, such as tragopan, golden pheasant, white-headed duck and red-billed leiothrix.
Historic and cultural value
In ancient times, the Wulingyuan area was regarded as remote and inaccessible. Local legends indicate that Zhang Liang, a lord in the Han Dynasty (206 BC- AD 220), lived here in seclusion and was buried below Qingyan (now Zhangjiajie) Mountain. Some references to the beauty of the area are made by Liu Zongyuan, a famous Chinese writer of the Tang Dynasty (618-907).
Major inhabitants of Wulingyuan are ethnic groups, including the Tujia, Miao and Bai peoples. They still keep their traditional customs and habits. The city of Zhangjiajie (formerly Dayong), close to this area, abounds in relics and places of historic interest.
Places of cultural interest in this area include Puguang Temple - a temple combining Chinese Buddhism and Taoism and the architectural traditions of the Song, Yuan, Ming and Qing dynasties; the 200-year-old grotto in the Yuhuang Cave, with a total of 19 stone-carved figures and more than 50 other carvings; Tianmen Mountain (gateway to Heaven); and the 50 km-long Maoyan River, which flows through magnificent scenery.