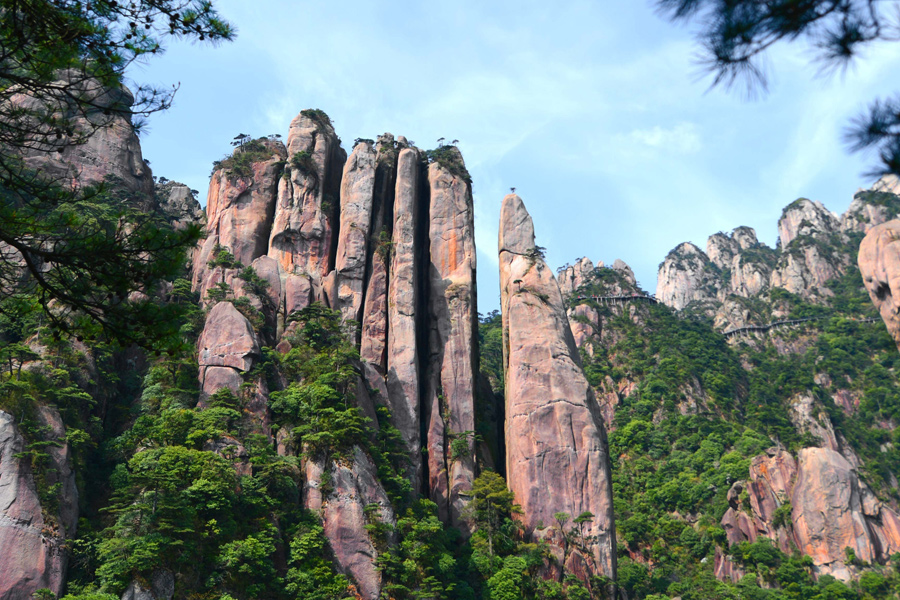 [Photo/Xinhua]
Category of Site: Natural site
 Brief introduction
Located in the west of the Huyaiyu mountain range in the northeast of Jiangxi province in the east of central China, Sanqingshan Mountain is marked by the concentration of fantastically shaped pillars and peaks. There are 48 granite peaks and 89 granite pillars, many of which resemble human or animal silhouettes. The natural beauty of the 1,817-meter-high Huaiyu Mountain is further enhanced by the juxtaposition of granite features against the vegetation. The particular meteorological conditions also make for an ever-changing and arresting landscape with bright halos on clouds and white rainbows. The area is subject to a combination of subtropical monsoonal and maritime influences and forms an island of temperate forest above the surrounding subtropical landscape. It also features forests and numerous waterfalls, some of them 60 meters in height, lakes and springs.
It was inscribed on the UNESCO World Natural Heritage List for its exceptional scenic quality and rich biodiversity in 2008.
Natural heritage
Mount Sanqingshan National Park displays a unique array of forested, fantastically shaped granite pillars and peaks concentrated in a relatively small area. The looming, intricate rock formations intermixed with delicate forest cover, combined with ever-shifting weather patterns create a landscape of arresting beauty.
Sanqingshan Mountain's remarkable granite rock formations combine with diverse forest, near and distant vistas, and striking meteorological effects to create a landscape of exceptional scenic quality. The most notable aspect is the concentration of fantastically shaped pillars and peaks. The natural beauty of Sanqingshan Mountain also derives from the juxtaposition of its granite features with the mountain's vegetation, enhanced by meteorological conditions which create an ever-changing and arresting landscape. The access afforded by suspended walking trails in the park permits visitors to appreciate the park's stunning scenery and enjoy its serene atmosphere.
The park boundaries are appropriately drawn to protect the naturalness of the landscape and the areas required to maintain the scenic qualities of the property. The property, although relatively small, includes all of the granite peaks and pillars which provide the framework for its aesthetic values. Boundaries are accurately surveyed and demarcated. The property's integrity is enhanced by the designation of a buffer zone that is not part of the inscribed property.