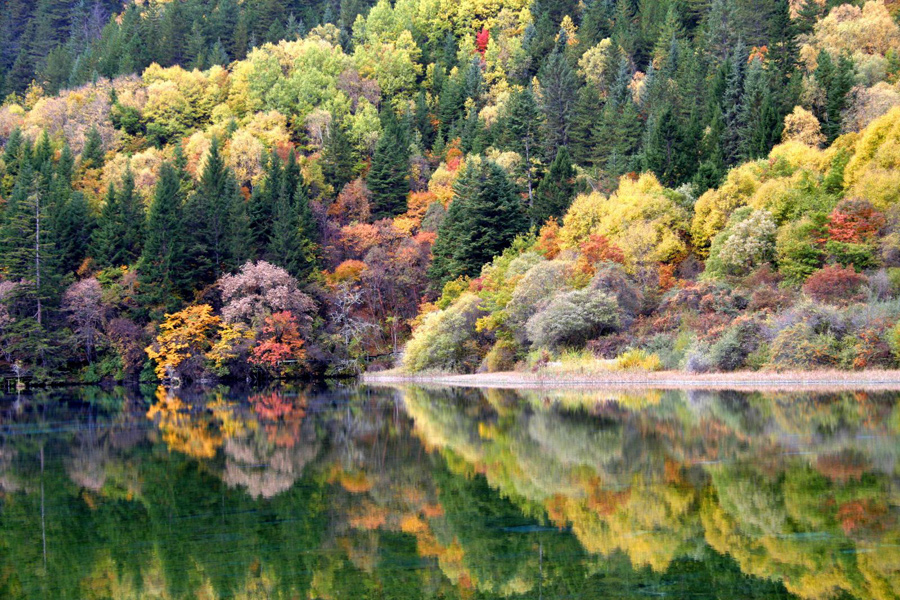 [Photo/whcn.org]
Category of Site: Natural site
Brief introduction
Part of the Minshan Mountains on the edge of the Qinghai-Tibet plateau, Jiuzhangou Valley stretches over 72,000 hectares in the northern part of Sichuan province. It reaches an altitude of more than 4,800 m, thus comprising a series of diverse forest ecosystems. Its superb landscapes are particularly interesting for their series of narrow conic karst land forms and spectacular waterfalls. Some 140 bird species also inhabit the valley, as well as a number of endangered plant and animal species, including the giant panda and the Sichuan takin.
The Jiuzhaigou Valley Scenic and Historic Interest Area is a reserve of exceptional natural beauty with spectacular jagged alpine mountains soaring above coniferous forest around a fairyland landscape of crystal clear, strange-colored blue, green and purplish pools, lakes, waterfalls, limestone terraces, caves and other beautiful features.
It was inscribed by UNESCO as a World Natural Heritage Site in 1992.
Natural heritage
The area is indeed a natural museum for alpine karst hydrology and research. It preserves a series of important forest ecosystems including old-growth forests which provide important habitat for numerous threatened species of plants and animals, including the giant panda and takin. Jiuzhaigou also contains an important number of well-preserved quaternary glacial remnants with great scenic value.
The climate there is subtropical to temperate monsoon. Total annual rainfall is 761 milimeters. But in the cloud forest it reaches at least 1,000 mm. Almost 80 percent of the rainfall occurs between May and October.
Jiuzhaigou is renowned for its scenic and aesthetic majesty. Its fairyland landscape of numerous lakes, waterfalls, and limestone terraces, with their attractive, clear, mineral-rich waters, set in the spectacular alpine mountains with a highly diverse forest ecosystem, demonstrates remarkable natural beauty.
Its ecosystem is classified as temperate broad-leaf forest and woodlands, with mixed mountain and highland systems. Nearly 300 square kilometers of the core scenic is covered by virgin mixed forests. Those forests take on yellow, orange and red hues in autumn, making that season a popular one for visitors. They are home to a number of plant species of interest, such as endemic varieties of rhododendron and bamboo.
Local fauna includes the giant panda and endangered golden snub-nosed monkey. Both populations are very small and isolated. Their survival is in question in a valley subject to increasing tourism. It is one of only three known locations for the threatened Duke of Bedford's vole. Jiuzhaigou is also home to approximately 140 bird species.