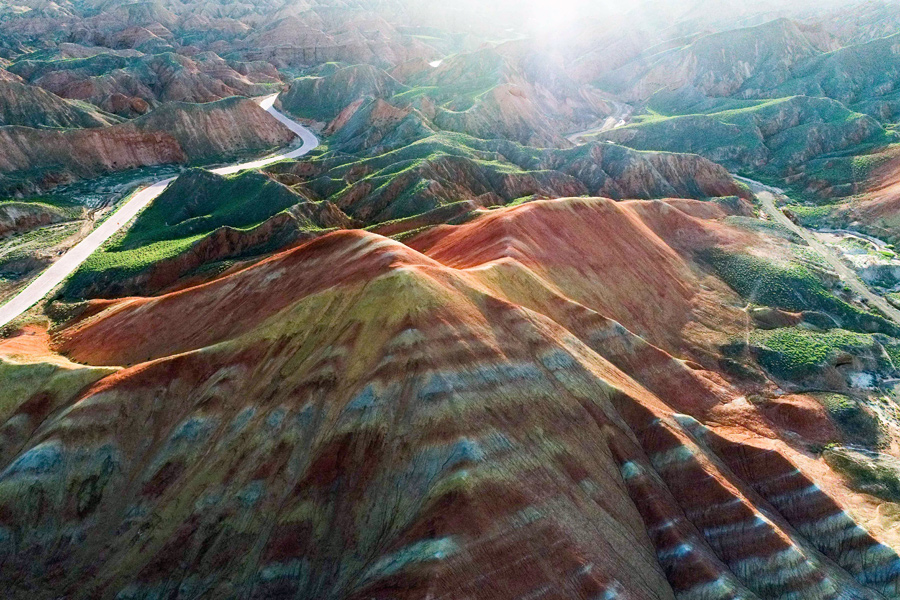 [Photo/Xinhua]
Category of Site: Natural site
Brief introduction
Danxia landform is the general name given in China to a unique type of landscape. The inscribed site comprises six areas found in the sub-tropical zone of Southwest China, including Chishui (Guizhou province), Taining (Fujian province), Langshan Mountain (Hunan province), Danxai Mountain (Guangdong province), Longhu Mountain (Jiangxi province), and Jianglangshan Mountain (Zhejiang province), from Guizhou province in the west to Zhejiang province in the east.
They are characterized by spectacular red cliffs and a range of erosional landforms, including dramatic natural pillars, towers, ravines, valleys and waterfalls. The process of its development is characterized by a particular rock sequence, tectonic background, climatic conditions, erosional processes and landforms and these processes have been presented as an interim model. These rugged landscapes have helped to conserve sub-tropical broad-leaved evergreen forests, and host many species of flora and fauna, about 400 of which are considered rare or threatened.
In August 2010, China Danxia was inscribed on the World Natural Heritage List.
Natural heritage
Due to the combined endogenic (tectonic uplift) and exogenic (climatic, erosion, weathering) forces, and other factors, the Danxia landforms have been developed in red sedimentary sequences continuously from the Neogene until the present. The six component parts represent the most important examples of "least eroded" to "most eroded" Danxia landforms, providing a range of the phenomenon, and illustrate both the range of landforms in relation to the forces and processes that formed them, together with a range of associated landscapes.
China Danxia is an impressive and unique landscape of great natural beauty, containing a wide variety of well developed red-bed landforms such as peaks, towers, mesas, cuestas, cliffs, valleys, caves and arches. It provides a range of different aspects of the phenomenon of physical landscape developed from continental (terrestrial) reddish conglomerate and sandstone in a warm, humid monsoon climate, illustrating both the range of landforms in relation to the forces and processes that formed them. The component parts display a clear landform sequence from "young" through "mature" to "old age", and with each component site displaying characteristic geomorphologic features of a given stage.
Six component parts
a) Danxia Mountain (Guangdong province)
Danxia Mountain is a noted scenic area near Shaoguan in the northern part of Guangdong province. The Danxia Mountain is formed from a reddish sandstone that has eroded over time forming a range of mountains surrounded by curvaceous cliffs and unusual rock formations (Danxia Landform). It is described by local signage as a "world famous UNESCO geopark of China". There are a number of temples located on the mountain range and visitors can enjoy many scenic walks in the area. There is also a river that winds through the mountain area and boat trips along the river are offered to visitors.
b) The golden lake (Taining, Fujian province)
The golden lake is located in Taining county in the northwest of Fujian province. A man-made lake sits at the upper reach and is about 60 kilometers long, and has a capacity of 8,700 million cubic meters. The Golden Lake is surrounded by mountains and verdant forest. Stone bamboo shoots stand tall with springs flowing through them. There are more than 1,000 historic sites, such as the Baishuiji waterfall, Canglu Temple, lover's peak, great Chibi and the 5-kilometer-long calm lake. These features make up this unique scenic spot. The Golden Lake is also regarded as "Lake of Gold" by tourists at home and abroad.
c) Longhu Mountain (Jiangxi province)
Longhu Mountain is located in Jiangxi province. It is famous for being one of the birthplaces of Taoism, as many Taoist temples were originally built upon the mountainside. It is particularly important to the Zhengyi Dao as the Shangqing Temple and the Mansion of the Taoist Master are located here. It is known as one of the Four Sacred Mountains of Taoism.
d) Langshan Mountain (Hunan province)
Langshan Mountain is one of China's National Geological Parks famous for its unique Danxia landform and literally means "Crimson Glow." It is a rare topographic feature in world geography. Huge rocks of dark red color with grotesque shapes give tourists a marvelous sight. It is located in Xinning county, about 500 km away from Changsha, capital of Hunan province. In the south, Langshan Mountain is connected with Guilin, and in the north it echoes Zhangjiajie. Covering an area of 108 square kilometers, Langshan Mountain is filled with rich natural scenery and abundant tourism resources. There are more than 500 scenic spots in Langshan Mountain. Among which the most famous are Tianyi Lane, Chili Peak, Zixia Cave, Fuyi River, Innate Bridge, Octagonal Castle, Emperor Xun Forest Park and the Xicun Ancient Dwelling.
e) Chishui (Guizhou province)
The Chishui Danxia was created by the combination of strong and intermittent Cenozoic uplifts of the Himalayan Orogeny and the hot and humid Asian Monsoon. It has not been damaged from the scouting process of the last glaciations. Chishui Danxia demonstrates the richness of the Danxia landform diversity. Its landforms are not only of high value in explaining Danxia landform evolution, but also have high aesthetic significance. The Chishui Danxia is big and has tall forests where ancient and modern vegetation stemming from many species co-exist, revealing an important and ongoing process of biology and ecology. Chishui Danxia has a high-level of biodiversity and provides refuge and habitats for many rare and endangered species.
f) Jianglangshan Mountain (Zhejiang province)
Jianglangshan scenic spot is famous for its grand stones that form the unique Danxia peak, the narrowest pass, the natural grand peak, the steep Langfei peak, the ancient Kaiming temple, the Jianglang College, the largest stone carving of Chairman Mao's handwriting on the cliff and Yanxia pavilion.