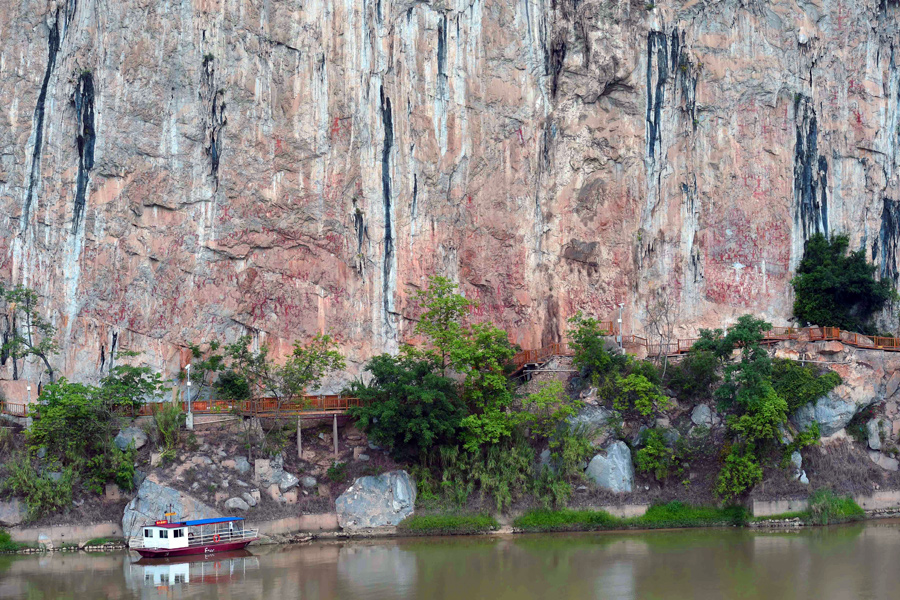 [Photo/Xinhua]
Category of Site: Cultural site
Brief introduction
Located on the west bank of the Mingjiang River in the border regions of southwest China dating back to around 5th Century BC to the 2nd Century AD, the Zuojiang Huashan Rock Art Cultural Landscape is an extensive assembly of historical rock art painted on limestone cliff faces. It was created by the Luoyue people illustrating their life and rituals. Thirty-eight sites of rock art and their associated karst, riverine and tableland landscape depict ceremonies that have been interpreted as portraying bronze drum culture once prevalent across southern China.
It was added to the World Cultural Heritage List in 2016.
Cultural heritage
The Zuojiang River flows through Chongzuo, a city along China's border with Vietnam, in Guangxi Zhuang autonomous region. The images of Zuojiang Huashan depicting drums and related elements are symbolic records directly associated with bronze drum culture once widespread in the region. Today bronze drums are still respected as symbols of power in southern China.
The reverence of the local people is probably a reason why the rock art, which was created between the 5th century BC and 2nd century AD, is in relatively good condition more than 2,000 years later. Close to the village is the biggest rock art complex among the 38 sites. It contains 1,951 motifs, most of which are human figures performing ceremonies.
The paintings are spread over an area of 8,000 square meters on the cliff, which is considered the world's biggest single panel of rock art other than the Nazca Lines in Peru.
Mysteries remain
The pigments in the paintings were mixed with minerals and oxalic acid derived from local plants to protect the red color from fading. Squatting human figures are common in prehistoric rock art all over the world. Zuojiang art has the most squatting human figures. This could mean that the Luoyue people were very devout. But the other possible explanation for the squatting figures could be their resemblance to frogs, which is typically connected with virility in such art. Worshipping a "frog deity" was also common among communities that cultivated paddies.
Despite studies, many mysteries still remain. For instance, why the artists suddenly stopped making rock art and what happened to the creators is unclear. Also, how the motifs were drawn so high up - some 60 meters above the river - is still being studied. While the locals see the site as a forbidden territory, outdoor adventurers have been drawn to it.