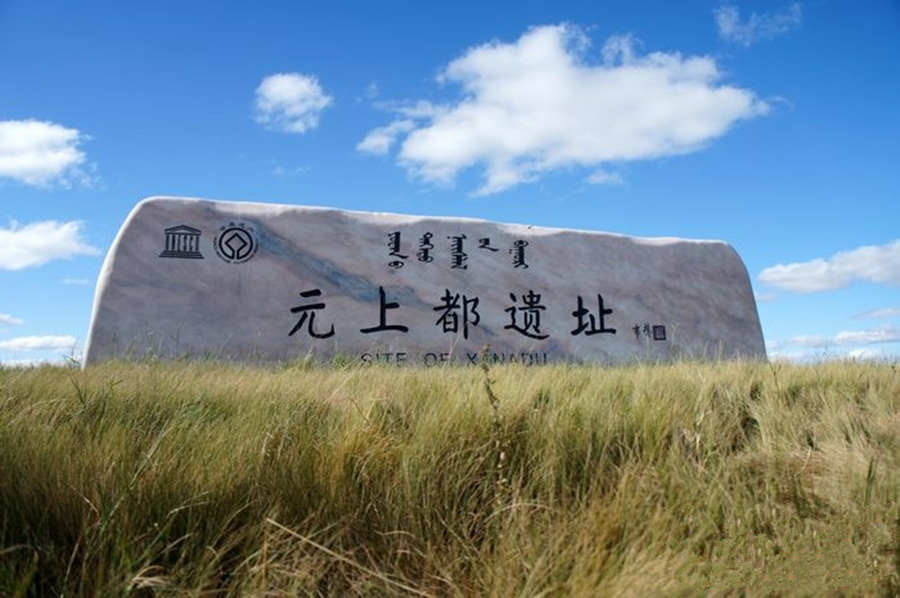 [Photo/People.cn]
Category of Site: Cultural Site
Brief introduction
Xanadu was the capital of Kublai Khan's Yuan Dynasty in China, located north of the Great Wall. It encompasses the remains of Kublai Khan's legendary capital city, designed by the Mongol ruler's Chinese advisor, Liu Bingzhong, in 1256. It was an attempt to assimilate the nomadic Mongolian and Han Chinese cultures.
The site was planned according to traditional Chinese feng shui in relation to the nearby mountains and river. It features the remains of the city, including temples, palaces, tombs, nomadic encampments and the Tiefangang Canal, along with other waterways.
The site of Xanadu was added to the list on June 29, 2012.
History
From this base, Kublai Khan established the Yuan Dynasty that ruled China over a century, extending its boundaries across Asia. The religious debate that took place here resulted in the dissemination of Tibetan Buddhism over Northeast Asia, a cultural and religious tradition still practiced in many areas today.
Archaeological excavation and historical records bear witness to the authenticity of the property as representing the interchange between the Mongolian and Han peoples in terms of capital design, historical layout and building materials. The tombs authenticate historical claims concerning the lives of the Mongolians and Han in Xanadu.
Apart from repairs to the Mingde Gate and the east wall of the Imperial City, there has been minimal intervention in the structure. The geographical environment and grassland landscape are intact and still convey the environmental setting and spatial feeling of the grassland capital.
Cultural heritage
As the site of a grassland capital characteristic of cultural fusion, Xanadu witnessed clashes and mutual assimilation between the nomadic and agrarian civilizations in northern Asia. It was the first capital (1263-1273) of Kublai Khan and later the summer capital (1274-1364) of the Yuan Dynasty. The city site and associated tombs are on the grassland steppe with a north-south axis determined by traditional Chinese feng shui principles, backed by mountains to the north and a river to the south.
From Xanadu, the mounted warriors of Kublai Khan unified the agrarian civilizations of China, and partly assimilated to the latter's culture, while extending the Yuan empire right across North Asia. The plan of Xanadu, with palace and imperial cities enclosed partly by the outer city, containing evidence of nomadic encampments and a royal hunting enclosure, comprises a unique example of this cultural fusion.
Evidence of large water control works instigated to protect the city exists in the form of remains of the Tiefangang Canal. As the place where Kublai Khan rose to power, hosted religious debates and entertained foreign travelers whose writings gave inspiration down the centuries, it has achieved legendary status in the rest of the world and is where Tibetan Buddhism expanded.