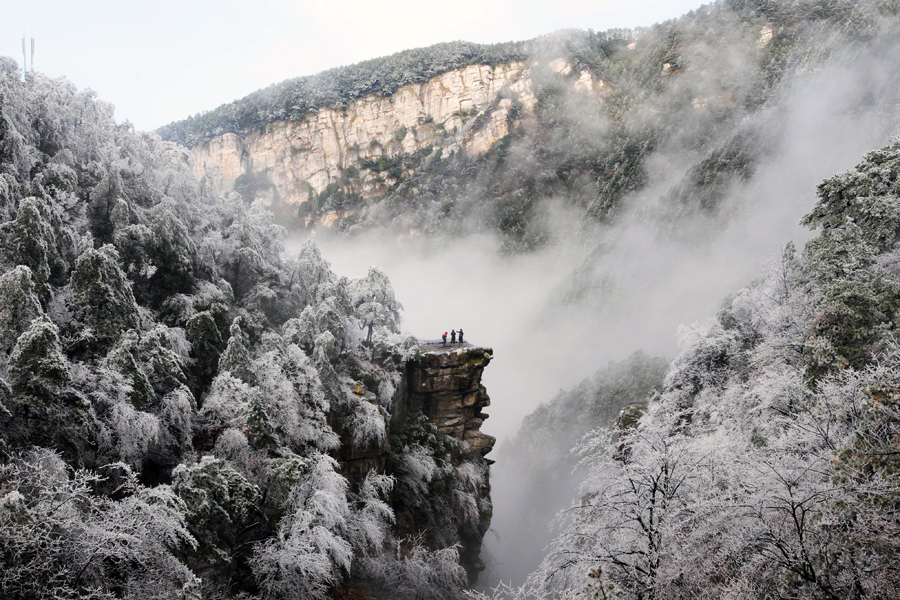 [Photo/Xinhua]
Category of site: Cultural Site
Brief introduction
Situated in the northern part of Jiangxi province, Lushan Mountain is one of China's most renowned mountains. Lushan National Park, which was inscribed on the World Heritage List in 1996, is a prominent tourist attraction that lures millions of tourists each year.
Apart from its breathtaking natural scenery, Lushan is the birthplace of Chinese landscape poetry, plus, the famous Lushan Plenum represents its role in China's political evolution. From another angle, Lushan used to be a summer resort for Western missionaries in China, which gave it a reputation for being a place for Western cultural intrusion into China. The heritage that makes up Lushan Mountain is so diverse that it is regarded as the national heritage of cultural landscape.
The Lushan National Park was added to the list in December, 1996.
History
Located in Jiujiang city, Jiangxi province, Lushan National Park covers a total area of 30,200 hectares and its highest Peak, Hanyang Peak, is 1,474 meters above sea level. Near the north by the Yangtze River and on the south by Poyang Lake, Lushan Mountain displays an integral scene of river, hills and lake, the beauty of which has attracted spiritual leaders, scholars, artists and writers for over 2,000 years. More than 200 historic buildings are situated in the Lushan National Park; complexes of prayer halls rebuilt and extended many times to create an ongoing centre for study and religion including the Buddhist East Grove Temple complex started by Huiyuan in 386 CE; the West Grove Pagoda found around 730 CE; the Temple of Simplicity and Tranquility begun during the Tang Dynasty as the repository of Taoist scriptures, and the White Deer Cave Academy originally built in 940 CE and revived in the late 12th century during the Song Dynasty when Zhu Xi instigated the spread of Confucius' political and ethical teaching. It continued to be extended up to the 19th century to include many temples, study halls and libraries. Other important characteristics include the stone single-span Guan Ying Bridge of 1,015 CE and more than 900 inscriptions on cliffs and stone tablets. Besides, around 600 villas were built by Chinese and foreign visitors in the late 19th and 20th centuries, when the area became a popular resort and was, during the 1930s and 1940s the official Summer Capital of the Republic of China. The villas reflect various architectural patterns and are laid out within the landscape according to Western planning concepts prevalent at the time.
Cultural heritage
Lushan Mountain plays an important role in Chinese history and culture, since it is an exceptional representative of Chinese landscape culture, an outstanding model of Chinese academy-based education, and a focal point for the integration of Chinese and Western cultures, once serving as the cultural center of southern China. The significant cultural developments and political events of Lushan's history have influenced the course of Chinese history.
The natural beauty of Lushan blend effortlessly with its historic buildings and features, creating a unique cultural landscape which embodies exceptional aesthetic value strongly associated with Chinese spiritual and cultural life. Combining nature and culture, Lushan Mountain displays the Chinese national spirit and epitomizes its cultural life.