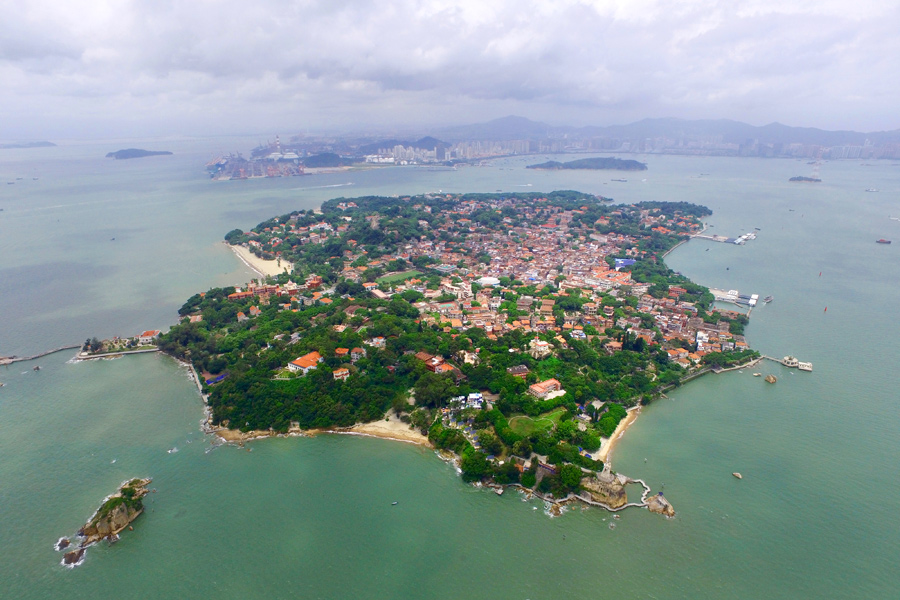 [Photo/Xinhua]
Category of site: Cultural Site
Brief introduction
Gulangyu Island, known in the local dialect as Kulangsu, is located on the estuary of the Jiulong River, facing the city of Xiamen. Its heritage includes a settlement composed of 931 historical buildings, and represents a variety of local and international architectural styles, natural sceneries, historic roads and gardens. Gulangyu is an exceptional example of cultural fusion.
The island has witnessed clashes of culture and integration between the East and the West since Xiamen was opened to foreign trade in 1844. So far, many historical relics and representative natural scenic spots are still well-preserved on the island.
It was added to the list on July 8, 2017.
History
The island was occupied by at least a dozen countries, including Great Britain, France and Japan, after the First Opium War and the Treaty of Nanking in 1842. It had consulates, churches and hospitals and was dominated by Victorian-style architecture. As a result, Western culture grew rapidly there in the 19th century, especially music.
With such a harmonious blend of Western music and Eastern culture, Gulangyu is naturally referred to as the "island of music". It is famous for its outstanding musicians and musical instruments. In fact it has more than 200 pianos - the highest per capita ownership of pianos in the entire country.
It is home to a number of endangered species, such as the Indo-Pacific humpback dolphin, the little egret and various small marine animals. Strolling along the 6 km promenade that runs around the tranquil car-free island is an enjoyable way to appreciate nature and have an unforgettable experience.
Cultural heritage
Kulangsu is an outstanding example of the cultural fusion that emerged from international exchanges, which remain legible in its urban fabric. Buildings here have a mixture of different architectural styles including Traditional Southern Fujian Style, Western Classical Revival Style and Veranda Colonial Style. The greatest testimony of the fusion of various stylistic influences is a new architectural movement, the Amoy Deco Style, a synthesis of the Modernist style of the early 20th century and Art Deco.