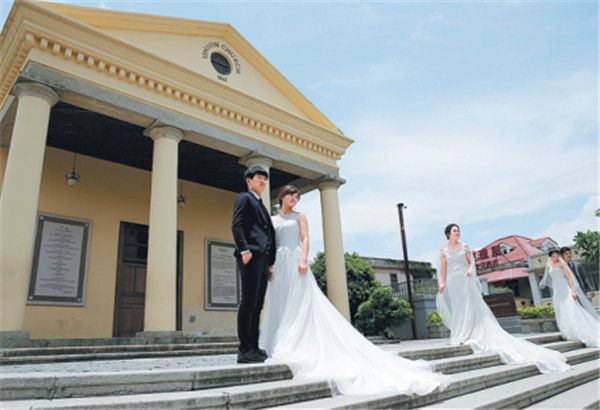 Gulangyu, the small sea island off the coast of Xiamen in Fujian province, boasts many 19th-century buildings as it was once clustered with Western religious groups, international institutions and foreign consulates. [Photo provided to China Daily]
So did the many adorable boutique hotels, the brightly colored souvenir shops and kitschy bars, the tropical fruit stands and casual restaurants, and the brave bare-chested men who roll wheelbarrows of cargo and luggage across the island's steep hills. (Some things are more challenging without cars.)
A few days after the storm, the street-food bazaar of Long Tou Road was already bubbling again with fragrant casseroles of ginger duck, fresh local clams with garlic and chili, and the most canonical local speciality: the oyster omelette, made with fresh oysters, eggs, scallions, and sweet-potato flour and served with bright red Xiamen-style hot sauce.
Before long, the 580-seat Gulangyu Concert Hall, an acousticonly venue that stages free classical concerts for the public almost every night-from local student recitals to visiting symphony orchestras-was also open again.
Gulangyu is also an island of museums, home to a new satellite branch of the Palace Museum in Beijing's Forbidden City as well as what are without a doubt the world's best and most beautiful piano and organ museums.
This is no accident: When classical music came to China, it first arrived on Gulangyu, and the island has given birth to a long line of great classical musicians, of which Yang is only one of the latest.
She still plays and hangs out with her old teachers and coaches some of the current students of the music school she first entered at age 7.
Perhaps more surprising for visitors whose expectations of China are filtered through the rhetoric of foreign media, the island is also blessed with temples for believers of all denominations: Protestant churches and Catholic cathedrals, Adventist homes, and a spectacular Buddhist temple that lies at the foot of Sunlight Rock, one of the most beautiful perches in all of China. All of these places are supported and maintained as historical monuments as well as being active places of worship.