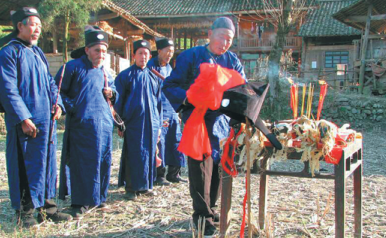 Elderly shuochun inheritors light incense before they perform. [Photo provided to China Daily]
To help raise awareness about local cultural heritage and to attract visitors to Guizhou, a series of "weekend gatherings" are being held until October. They're organized by Guizhou Provincial Department of Culture.
This is the second year of such "weekend gatherings", which started in May.
One of the key events is for shuochun performers like Feng to give lectures and showcase local intangible culture heritage on campuses.
Jiang Guiwu, the head of the "weekend gatherings" organizing committee, who is also assistant general manager of Colorful Guizhou City Construction & Management Co, Ltd, says the campus project allows students to experience traditional culture.
Feng was nervous when he first entered a classroom at Guiyang University on May 29. However, as the class progressed, the students listened to him attentively.
"It's great!" Feng said proudly after the class. "I was surprised that students came to me after the class to ask for my contact information. They are deeply interested in the art, and some even decided to write papers on shuochun."
Wen Pengfei, a Guiyang University sophomore, says: "We learned a lot, and the content is not in our textbooks. We got a special experience through the showcasing and explanation of the intangible culture art form."
Long Youming, the deputy director of the Guizhou Intangible Culture Heritage Protection Center, says lectures for college students is a good way to protect traditional culture. The campus project will expand to 20 counties.
Dong Xianwu contributed to the story.