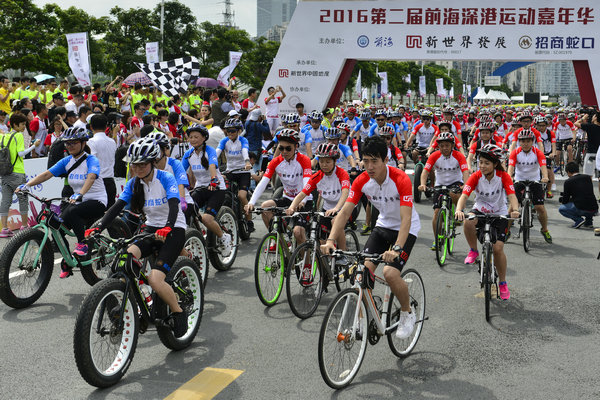 A sports carnival is held in Qianhai, a hub of Shenzhen-Hong Kong industry cooperation in Shenzhen. [Photo by Yuan Shuiling/provided to China Daily]
Cheung Kang-biu left a stable job at an international investment bank in Hong Kong three years ago to migrate to Beijing.
He was drawn by opportunities and curiosity that overcame his family's objections.
"I feel my career path has been opened up," the 30-year-old Chinese University of Hong Kong graduate says.
"The mainland seems both familiar and odd to me. I speak Mandarin and understand Chinese culture. But I didn't know how people lived across the Shenzhen River (the natural border between Hong Kong and the mainland)."
Cheung joined Jide Technology, a Beijing-based tech startup founded by three former Google engineers.
The mainland's IT development makes life easy.
He pays bills using his smartphone, rides shared bikes to work and uses the messaging app WeChat instead of email.