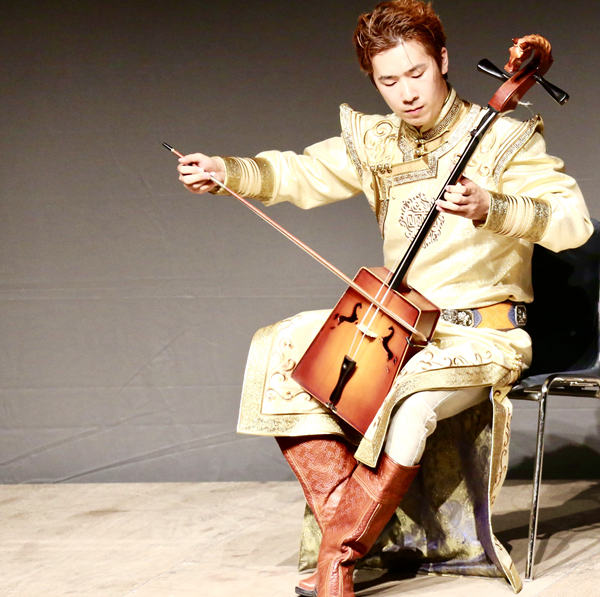 Han Mouren, a master of the horse-head fiddle, will play in the concert of Ye Xiaogang's works. [Photo/China Daily]
Chinese composer Ye Xiaogang will premiere his latest symphonic poem, The China Story - Songs From the Steppe, with a joint performance of the Baotou Symphony Orchestra and the China National Symphony Orchestra at the National Center for the Performing Arts in Beijing on Wednesday.
The concert, conducted by Chinese-American conductor Hu Yongyan, will feature a series of Ye's new pieces, including Steppe Eagle, The Holy Mountain and Northern Sky.
Chinese tenor Liu Songhu, baritone Ariunbaatar Ganbaatar, and sopranos Wang Wei and Zhu Huiling will perform.
Han Mouren, a master of the morin khuur, or horse-head fiddle (a traditional Mongolian bowed stringed instrument), will perform along with the orchestras, offering authentic sounds of the Mongolian ethnic group.
Ye was commissioned by the Baotou Symphony Orchestra three years ago to write the symphonic poem, which mainly draws inspiration from the Inner Mongolia autonomous region.
Hu is the music director of the Baotou Symphony Orchestra, which is affiliated with the Baotou Ethnic Song and Dance Theater.
Since 2015, the orchestra has held two music seasons every year, which not only introduce Western classical music to local audiences but also keep alive the tradition of Mongolian ethnic music.
Speaking about his poem, Ye, who was born in Shanghai and graduated from the Central Conservatory of Music in Beijing in 1983, says: "We made three trips to Inner Mongolia and drove all the way west from Hohhot (the capital of Inner Mongolia). The natural scenery - the mountains, lakes and grasslands - really inspired me."
The 62-year-old, who teaches at the Central Conservatory of Music and serves as the president of the China Musicians Association, is known for his compositions, which range from operas and TV drama soundtracks to symphony orchestras. One of his pieces, Starry Sky, premiered at the opening ceremony of the Beijing Olympic Games in 2008.
"It's always a different cultural experience to visit Inner Mongolia, since I was born and grew up in southern China," he says.
"We visited museums and historical sites, and participated in local gatherings, which involved lots of singing, dancing and instrument playing, all of which were very impressive and great for my work."
If you go
7:30 pm, Wednesday. National Center for the Performing Arts, West Chang'an Avenue, Xicheng district, Beijing. 010-6655-0000.