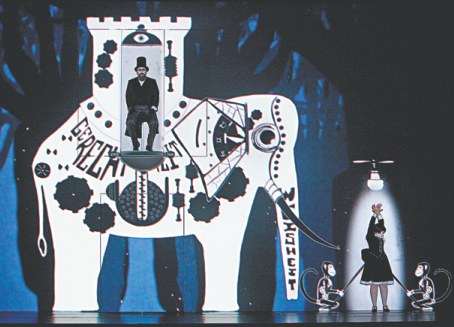 The Magic Flute is a two-act opera by Mozart set to a German libretto by Emanuel Schikaneder. [Photo provided to China Daily]
When the production of Mozart's opera Magic Flute by the Komische Oper Berlin and British theater group 1927, is staged in Beijing from July 21 to 23 at the Tianqiao Performing Arts Center, audiences will see an imaginative mix of an animated film, live action, a silent movie and the actors.
The production, which premiered at the Komische Oper Berlin in 2012, has been touring the world since then.
It has been staged in Shanghai and Guangzhou.
Speaking about the performance, Ulrich Lenz, the drama consultant of Komische Oper Berlin, says: "Anything that you cannot explain with words can be done with music and with images.
"The technique is new but it is still a story that appeals to people from 9 to 90."
The Magic Flute is an two-act opera by Mozart set to a German libretto by Emanuel Schikaneder.
It premiered in 1791 in Vienna, just two months before the composer's death.
The story is about young prince Tamino being pursued by an evil snake, and then finds himself in the land of the Queen of the Night.
Then, after the queen helps kill the snake, Tamino meets Papageno, the queen's birdcatcher. Soon, it is revealed to Tamino that a distant king, Sarastro, has abducted the queen's beautiful daughter, Pamina.
After seeing her portrait, Tamino falls in love with her.
Later, with the help of a magic flute, given to him by the queen, Tamino and Papageno go on a quest to save Pamina.
Meanwhile, in Sarastro's palace, Pamina is being tormented by the slavekeeper Monostatos. When Tamino and Papageno arrive at the palace and are surprised to find that Sarastro is not the cruel tyrant they thought.