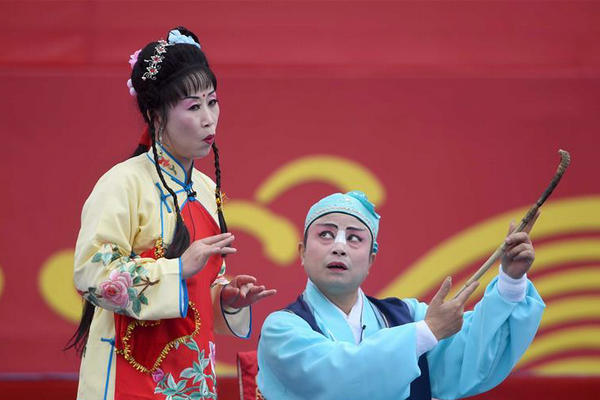 Artists perform a traditional opera during the 6th international intangible cultural heritage festival held in Chengdu in Sichuan province, June 10, 2017. [Photo/Xinhua]
June 10 marked China's first Cultural and Natural Heritage Day. The festival, whose name was changed in 2016 by the State Council from the former Cultural Heritage Day, is held on the second Saturday of every June.
The event, focusing on the theme of dynamic intangible cultural heritage inheritance this year, is a collective showcase of achievements on intangible cultural heritage protection since the 18th CPC National Congress held in 2012.
Organized by the Ministry of Culture, over 1,700 activities were held nationwide.
Each province and autonomous region had their own activities to promote intangible cultural heritage protection, including a carnival in Shanghai and an intangible cultural heritage exhibition held by Beijing, Tianjin and Hebei.
An International Cultural Industry Forum and a Dialogue on the First Cultural and Natural Heritage Day were held at the Great Hall of the People on Saturday.
About 100 government officials, scholars, representatives from enterprises, embassies and 10 countries attended the forum.
The meeting aims to find better ideas and ways to promote traditional Chinese culture and protect China's cultural and natural heritage, and give a boost to the cultural exchanges between China and countries with the backup of the Belt and Road Initiative.
At the forum, Cui Ruzhuo, director of a Chinese ink painting research center affiliated with the Palace Museum Research Institute, said Chinese artists should have strong confidence and faith in Chinese culture. And artists should have more works that can become symbols of Chinese culture.
Wang Yamin, deputy director of the Palace Museum, said creativity is an important engine that can push traditional Chinese culture to keep progressing and refreshing.
The Palace Museum has been a pioneer in the field of creative cultural industry in recent years. Wang said the cultural industry is both an inheritance and an innovation of cultural heritage.