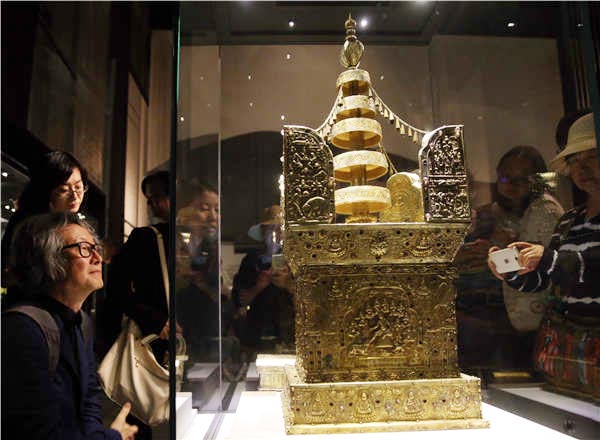 Splendor and Beauty: The Archaeological Finds in Recent 20 Years in China displays 360 sets of artifacts unearthed from around the country. A model of the Ashoka Pagoda is one of the biggest draws at the show. Photos by Jiang Dong/China Daily
The Capital Museum is holding a show on major archaeological discoveries in China, Wang Kaihao reports.
Kicking off at the Capital Museum in Beijing on Thursday, International Museum Day was celebrated in the country with the exhibition Splendor and Beauty: The Archaeological Finds in Recent 20 Years in China.
The display combines 360 sets of artifacts from 49 institutions across the country, with most items never having traveled outside their home provinces.
They cover almost all archaeological events occupying media headlines in recent years, ranging from the discovery of the tomb of Marquis Haihun in Jiangxi province, nicknamed "China's Tutankhamun tomb" for its huge sum of nuggets, to the tomb of the notorious Emperor Yang from the Sui Dynasty (581-618).
"These important archaeological discoveries connect ancient Chinese cultures in history," says Long Xiaofei, a curator of the exhibition at the Capital Museum.
"However, we have to reach a balance between their academic significance and visibility," he adds. "Each piece has to be the best representative, not only for its historical time, but for people's admiration and the creation of beauty."
According to him, four sections are designed in the exhibition in time order. The Paleolithic and Neolithic periods show the origin of Chinese people's aesthetics. Ritualistic items from Xia, Shang and Zhou dynasties (c. 21st century BC-256 BC), including bronze wares, jade and lacquer wares, reflect sharp changes in social structures and philosophies.