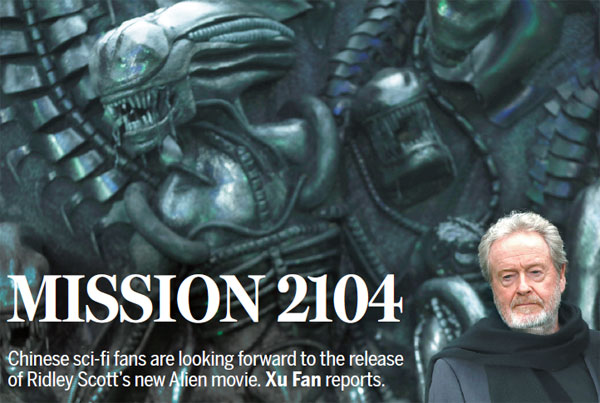 Director Ridley Scott attends the world premiere of Alien: Covenant in London on May 4. The sci-fi thriller will be screened in China on June 16.[Photo/Agencies] 
Chinese sci-fi fans are looking forward to the release of Ridley Scott's new Alien movie. Xu Fan reports.
In outer space, no one can hear you scream. But in Chinese theaters, they probably will.
Nearly four decades after Ridley Scott's movie Alien became a hit, the British director is bringing the infamous extra-terrestrial monster Xenomorph back to the silver screen.
Xenomorph, a name derived from the Greek words xeno (alien) and morphe (form), is a fictional creature that relies on human host to reproduce. Among the villains in sci-fi film history, this one has the ability to give you a chill.
The 1979 movie won an Oscar for best visual-effects and has since influenced a number of films and TV shows, such as The Thing and Alien Hunter.
Now, as the sixth movie of the enduring Alien franchise, and also the sequel to Prometheus, Alien: Covenant will open on the Chinese mainland on June 16, nearly a month after its debut in North America on Friday. Except for the first Alien movie and Prometheus (2012) by Scott, the other three Alien films respectively released in 1986, 1992 and 1997 have different directors.
So for hard-core fans, the new movie is somewhat a pure-blooded return.